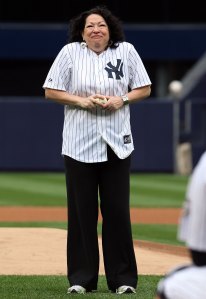 Sonia Sotomayor is surfacing in Senate races.
The Washington Post won't be covering New York much longer.
Steve Colvin–formerly of Maxim, Blender, and Stuff–will be the new president of The Daily Beast.
Obama Effect continues: J. Crew posts big profits.
J.P. Morgan is launching a new "dark pool."
The Macy's Thanksgiving Day parade adds two avenues.
Got any thoughts on what to do with Pier A?
It turns out takeout can be unethical.
But you'll probably get screwed if you do your own grocery shopping.
Thomas Keller feels it is "time for tripe."
Sarah Palin's Going Rogue sold 700,000 copies in its first week.
Michael Bloomberg said Palin "wasn't interested in national politics" when he met her.