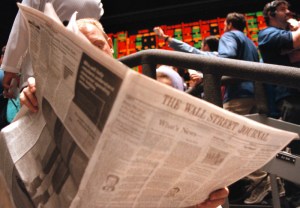 The Wall Street Journal will be hiring a small metro staff, says Media Decoder. The local news coverage would be part of The Journal's effort to create a New York edition, first reported here almost two months ago as a project that was focused mostly on increased arts coverage.
Beyond that, writes Richard Perez-Pena, it "reflects Rupert Murdoch's mandate to make The Journal more of a general-interest newspaper, and a more direct competitor to The New York Times."
The local edition could start early next year, and involve around a dozen new positions.
Bear in mind that the titanic Times Metro desk has 50 reporters and an overall staff of 103, for now.