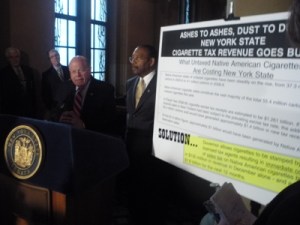 ALBANY—State Senator Carl Kruger, the chairman of the chamber's finance committee, just insisted that things are close on a deficit reduction package.
"As you well know, we've been working, the staff as well as the members, both in-house and on a conference call, for virtually seven days a week," he told reporters at a press conference where he urged David Paterson to start collecting taxes on cigarette taxes sold on tribal reservations. "I think that we're a lot closer than one might think. And when we approach it on the basis that $1.6 billion worth of cuts, there was virtually three-way agreement on. So consequently we are dealing with approximately $1.5 billion worth of cuts, and of those $1.5 billion, many of those are also resolved as well. So although they say that we're far apart–you've been around here a long time, I've been here, probably too long by someone's estimation–but at the end of the day we're far from far apart."
Kruger was asked how many "one-shots," like the $1.6 billion that everyone has agreed to, are appropriate.
"So the one-shots, if they are going to be used, become a bridge to the new frontier," he replied. "And I want to keep on reiterating: the new frontier is not cutting the budget. The new frontier is reforming government. And by reforming government we cut the budget. Because we re-tool the way we deliver services and we re-tool the way we govern. The concept of cuts dies under the blanket of reform."
Kruger also, while calling it an "aberration," basically confirmed a Post report that he is pushing for more taxes on health insurance. Finally, one of my L.C.A. colleagues had a brain fart and called Carl Kruger "governor." Liz asked him if he was running for that job.
"I'm actually running for cover," he retorted.