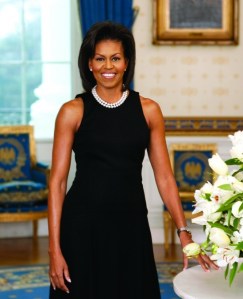 Michelle Obama was sent a letter by city lawmakers inviting her to testify here in favor of requiring paid sick days for workers.
The first lady recently embraced paid sick days in a talk with the business leaders, according to the Times.
In the November 12 letter, the lawmakers said, "We believe that with the leadership of women like you all Americans will no longer have to make the choice between going to work or taking care of a loved one." It went on to say "we are inviting you to attend the New York City Council hearing on Tuesday, November 17th, at 1 PM to address the importance of cities like New York leading the way for the rest of the nation."
Locally, the battle over paid sick days is one of the top priorities for the Working Families Party, and is proving to be a thorny issue for City Council Speaker Christine Quinn, whose allies in labor support it, but whose friends in the business community oppose it. Whether or not Obama accepts the invitation, making the invitation public helps spread the impression that the White House backs this kind of legislation. And that's a notion advocates are likely to remind critics about.
The letter was co-signed by City Council members Gale Brewer, Letitia James, Melissa Mark Viverito, Annabel Palma, Jessica Lappin and Helen Foster.