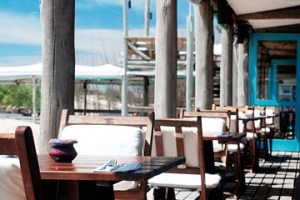 Every December and January, Punta's high-octane dining scene is all about beautiful people watching other beautiful people, all of whom are enjoying fantastic food at a leisurely Latin pace. Whether you eat at breezy beachfront hot-spots serving fresh sushi, or rural farmhouses where steak and red wine are the must-haves, the rule of thumb is to always book in advance, be prepared to wait, and, in many cases, bring cash. NB: Dinner time starts late, around 10 p.m.
Parador La Huella
Playa Brava, José Ignacio
Every afternoon during the summer high season, La Huella is the place to be see-and-be-seen for the young, tan and beautiful international set. Book well in advance for a table, and then expect to wait for it, as once guests have been seated, no one is in a rush to leave La Huella, which is often compared to St. Tropez's Club 55. The simple, open air shack is is right on the happening beach near the lighthouse of José Ignacio, and it's also home to a Lacoste boutique. Sit on the terrace, order a bottle of wine and some pizza or fresh salads, seafood and sushi, and while away the late afternoon and early evening hours until it's time to go home and get ready to go out again for a late dinner—then hit one of the area's private late night parties to which, if you've chatted up the right people lounging at La Huella, you might score an invitation.
www.paradorlahuella.com | Phone: +598 48 62279
Playa Brava José Ignacio | José Ignacio, Punta del Este Uruguay
Lo de Miguel at Finca y Granja Narbona
La Barra
This ranch-style restaurant, wine bar, art gallery and small gourmet grocery shop made a splash when it opened in December 2007. "Narbona is my family's project," says local travel expert Marina Cook. "It has a unique style, different from everything in Punta del Este—old fashioned with amazing scenery around it. They serve gourmet Uruguayan food, including Narbona's own wines, home made cheese and bread. And it's not expensive at all." The farmhouse is a great place to gather a large group of friends at long tables and dine al fresco in the illuminated courtyard, or inside amid the rustic-chic interiors. (It's not easy to find; you have to take a backroad about 10 minutes from La Barra past the golf club. Take El Viejo Camino a San Carlo, the old street to San Carlo, which begins behind the ANCAP gas Station in La Barra. Go 4.5 km then turn right on Camino del Golf. You'll see a small sign saying Narbona; after 1km, pass through the antique archway to your left.)
Phone: +598 96 648664
Camino del Golf, Km 1, (via El Viejo Camino a San Carlo) | La Barra, Punta del Este Uruguay
Restaurant El Garzón
Garzón
It takes a long, slow, bumpy ride down a pitch-dark dirt road filled with grazing cows to reach the sleepy inland town of Garzón, which seems a bit like a Western ghost-town—all you need is tumbleweed. You'll think you're in the middle of nowhere, but it's worth the trek to dine at El Garzón, an intimate, dimly lit restaurant from renowned Argentine chef Francis Mallmann. The country chic dining room is decorated with the owner's art collection, and connects to a living room with comfy couches, and coffee tables and bookshelves stocked with some of his favorite books; the whole place feels very homey. You can also dine outside on the patio garden by the small pool. Mallmann does wonders with fresh produce and fish from the region. Watch the kitchen staff use his signature infiernillo ("little hell") technique, inspired by an traditional Incan method using twin wood fires lit above and below. This labor intensive method produces mouthwatering results, evident in the butterfly brotola al infiernillo with grilled vegetables; other menu faves are the catch of the day in salt crust or the roasted filet mignon of Aberdeen Angus with chimi churri. The wine menu features Mallmann's own line of Argentine wines. Just don't drink too much as you'll have to navigate that country road and avoid the cows on the drive home—unless you're spending the night in one of Garzón's small but cozy guestrooms, each with a fireplace.
www.restaurantgarzon.com | Phone: +598 410 2811
Garzón Uruguay
The Tea Room at Hotel L'Auberge
Punta del Este
Don't miss teatime at L'Auberge, where local families and Argentines on holiday come to gorge on huge, freshly made Belgian waffles drenched in warm dulce de leche, or your choice of chocolate and cheese sauces. Set in a residential neighborhood, about two blocks from Punta's main highway in Punta, L'Auberge is a lovely red brick mansion hotel with traditional French country style. If you're in Punta for New Years, this is a memorable brunch spot for New Years Day—just be willing to wait on line. You can work off your sugar high later with long walks on the beach.
laubergehotel.com | Phone: +598 42 48 2601
Carnoustie y Av. del Agua, Barrio Parque de Golf | Punta del Este CP 20100 Uruguay
Marismo
José Ignacio
Marismo is one atmospheric restaurant, located down a dark, dirt road and tucked into a wooded glade illuminated by torchlight and candlelight and a bonfire—all of which make the beautiful clientele even better looking. Book well in advance for one of the long tables pitched in the sand. You'll probably have to enjoy a cocktail in the little bar lounge while waiting for your table, as this is one of the busiest restaurants during high-season, but that gives you a good chance for people watching. Like many places in Punta, Marismo tends to be popular with large groups of family and friends dining together rather than couples. It kind of has a festive Ibiza feel with Indian style white fabric lanterns dangling from the trees, and DJ dance tunes as background music. Service can be harried but the fresh and hearty meat, fish and salad dishes are very tasty. Come armed with cash as they don't take credit cards.
Phone: +598 48 62273
Ruta 10, Km 185, Camino a la Laguna Garzón | José Ignacio Uruguay
Butia at Casa Suaya
José Ignacio
A new arrival on a quiet stretch of Jose Ignaco's beachfront is Butia, a small restaurant at Casa Suaya, the private estate and guesthouse of Brazilian restaurateur Adolfo Suaya, owner of the Lodge and Geisha House in Los Angeles. Expect modern takes on traditional Uruguayan dishes such as black sea bass. "Butia is amazing," says Aleksandar, a Zurich and London based banker, who stayed at the hotel in early 2008."Chef Clo Dimet, who is Uruguayan, is fantastic. She also has a restaurant in São Paolo called La Table and it's in the Olivier & Co. shop. Casa Suaya's setting is beautiful, right behind the dunes." The restaurant and bar occupy a thatched-roof palapa and outdoor patio overlooking the pool, which is illuminated after dark.
www.casasuaya.com | Phone: info@casasuaya.com
Ruta 10km 186.5 | José Ignacio, Punta del Este +589 486 2750 Uruguay
Namm
José Ignacio
Much like Marismo, its not too distant neighbor up the same dark, dirt road, Namm is a mostly outdoor fancy-shack of a restaurant in the middle of the woods. Far Eastern decor and glowing lanterns set the scene for the reliably good Asian fusion cuisine, including fresh sushi platters. You can sit on the balcony or descend to the courtyard and sit around a big table outside or in one of the semi-private booths. Perfect for large groups or a romantic dinner for two.
Phone: +598 48 62526
Camino a la Laguna Garzón | José Ignacio Uruguay
La Bourgogne
Punta del Este
The only Relais & Chateaux Gourmand restaurant in Uruguay, La Bourgogne is worth a visit if you want a more formal and sophisticated dining experience. "La Bourgogne it is a special place with a wonderful chef from France, my friend Jean-Paul Boundoux," says Marina Cook, a Buenos Aires-based travel specialist who knows everything about—and seemingly everyone in—Punta. Although she warns that the downtown harbor area is, the most part, best avoided due to crowds and traffic. Good luck finding parking! Book a seat on the outdoor garden patio and dine of fresh French fare using produce from the chef's own farm. Insider tip: Try to time your reservation so you can have sunset drinks beforehand on the terrace of the nearby Yacht Club, which is open to non-members.
www.relaischateaux.com | Phone: +598 (0)42 4820 07
Pedragosa Sierra and Avda. de la Mar | Punta del Este 20100 Uruguay
Medialunas Calentitas
La Barra and José Ignacio
"A Brazilian friend of mine turned me on to the fresh-baked croissants (medialunas) at this tiny pastry shop, which has two locations in Punta: one in the lively downtown of La Barra village, and the other, more charming one in José Ignacio," says our editor Chantal, who was in Punta last New Years. "After sleeping in late, it's the place to go for a quick coffee and breakfast (a.k.a. lunch) before heading to the beach. Try the croissants with ham and cheese or with dulce de leche."
medialunascalentitas.com | Phone: +598 (0)42 772 347
La Barra: Palmas de La Barra shopping center, José Ignacio: Route 10, Km 183.5 (north of Ancap) | Punta del Este Uruguay
Suzanne Aaronson, Co-founder of Suzanne's Files, is our Travel Curator. Stay in-the-know on her latest finds and insider tips by signing up to receive Notes from Suzanne's Files, a free e-newsletter.