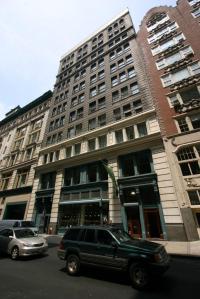 The lighting and design wizards at Fisher Marantz Stone, known for such pyrotechnics of illumination as the World Trade Center phantom towers and Brooklyn's psychedelic-infused, color-coordinated Borough Hall, will remain in their 18,300-square-foot studios at 22 West 19th Street. A tenant of the Chelsea building since 1999, Fisher Marantz Stone extended its lease by another eight years.
With lighting designs to his name from Studio 54 in its polyester prime to the Washington Monument's stark luminosity, the firm's chief Paul Marantz is occasionally known by his industry moniker, "the Prince of Darkness." The firm has also provided its signature light touch to the revamping of Times Square in the '80s, Grand Central, the Rainbow Room and Carnegie Hall.
As the lighting industry undergoes something of a renaissance in the post-LEED world, the focus of Fisher Marantz Stone has shifted to reflect its commitment to minimal environmental impact and sustainable design.
Marco Ellman of Ellman Realty Advisors represented the tenant. Steve Kaufman represented landlord the Kaufman Organization in-house.
egeminder@observer.com