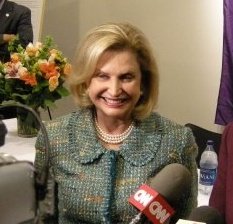 Back when Carolyn Maloney was considering a challenge to incumbent Senator Kirsten Gillibrand, Ms. Maloney compared a primary to the Iranian elections and said "New Yorkers deserve the right to vote, the right to make their own decision." To discourage Ms. Maloney, Senator Gillibrand had a swift, brutal primary strategy in place that began with a litany of endorsements, and continued with party players discouraging the seven-term Congresswoman from trying to move up a chamber. And, eventually, it worked. (And there's more, still!)
Now, Ms. Maloney is the one rolling out endorsements and counting on party support in the hope that she can discourage her own primary challenger, former HillPac lawyer Reshma Saujani.
Ms. Maloney seems to have opted for blunt force over the slow play. Ms. Maloney had already posted a number of endorsements on her web site, but last week she announced that she had secured the support of all her House colleagues in the New York City delegation. And, perhaps in a nod to her challenger's youth, she chose Facebook to break the good news. "Carolyn Maloney is proud to have been endorsed for re-election by every member of New York City's House delegation," it reads. (Of her 1,666 Facebook supporters, 22 clicked to say they liked the news.)
Whether Ms. Maloney can count on the rest of the party to help clear the field as aggressively as they did for Ms. Gillibrand is another matter entirely. Senator Chuck Schumer does not have quite as much time for Ms. Maloney as he does for Ms. Gillibrand, and her challenger, Ms. Saujani, is reportedly being supported by powerful fund-raisers Maureen White and Marc Lasry at a fundraiser this week.