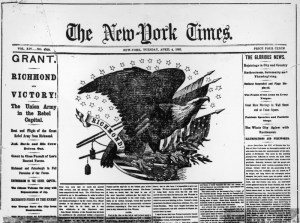 A documentarian with an HBO development deal wants to cover the Times media desk as they cover media, and John Koblin is covering the whole thing in tomorrow's paper:
"I think that these writers have something invested in their stories that is sort of unique compared to what it would have been like five years ago," said Andrew Rossi, the filmmaker, who produced and directed Le Cirque: A Table in Heaven, Control Room and Eat This New York. "Reporting on a lot of bad news must have a sort of negative psychic effect. It makes what these writers are doing now that much more emotionally heart-wrenching."

We can attest to that!
Like an onion, it has many layers, and may make you weep.