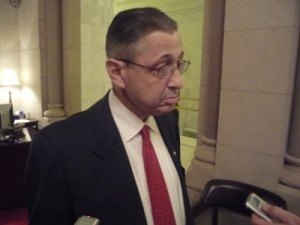 ALBANY—Sources in both the Senate and Assembly say the leaders of those chambers have agreed to pass a deficit-reduction plan of around $2.85 billion that does not contain mid-year school aid cuts but does contain some cuts to healthcare. It will also contain lots of tricks and one-shot actions, some of which David Paterson had already pledged to do unilaterally.
Assembly Speaker Sheldon Silver and Senate Democratic Conference Leader John Sampson delivered the message to Paterson during a closed-door session at the Governor's Mansion earlier this afternoon, then briefed legislative colleagues what they intended to do. Silver said as much to reporters (I missed him) emerging from a session of his conference, and told me on his way in that there was "probably not" anything but school aid causing a delay.
Paterson's proposal for cuts to schools has held everything up; John Sampson and members of the State Senate have refused to support them as Paterson keeps insisting they are essential, given looming deficits.
The governor said he would get back to legislators with a decision. It's unclear whether they would draft and pass—or amend—legislation without his acquiescence.
Paterson has not spoken publicly all day, and an aide did not immediately return an email seeking comment. The governor is en route to New York City, where he is scheduled to speak tonight at a gala honoring the Amsterdam News.
UPDATE: I saw Assembly Speaker Sheldon Silver after he spoke to his conference at 6:30, and he repeated that "we're very close" to a deal. Then David Paterson sent out this statement.
"Negotiations with legislative leaders on a Deficit Reduction Plan concluded this afternoon," Governor Paterson said. "Unfortunately, the Legislature's last best offer does not take sufficient action to restore New York State's long-term fiscal stability and does nowhere near enough to address next year's budget deficit. I welcome the Legislature's $600-$700 million in cuts, but I intend to go much further. In the face of this historic economic crisis, we need to do more to put New York State on the path to economic recovery."

The $2.8 billion plan presented by the Legislature includes $1.6 billion in executive actions already taken by Governor Paterson; $391 million in a spin-up of federal education aid; and $250 million in a tax amnesty program – meaning only $600-$700 million in real spending reductions have been agreed to by the Legislature.

"I have given the Legislature more than enough time to join with me to address this crisis," Governor Paterson said. "If the Legislature won't stand up for the people of New York because they're worried about the next election, then I will do so on my own. That is why I am directing the Division of Budget to reduce payments to prevent our State from running out of cash this fiscal year. This action will keep New York State solvent and ensure that we have enough money to make it through the year."