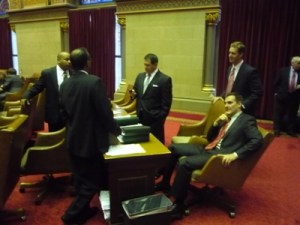 ALBANY—The Assembly is planning to be back on Monday.
Members are recessed until 4 p.m., and have been told to prepare to return to Albany on Monday to deal with a $3.2 billion deficit.
"Theres no way we won't be back Monday," Assemblyman Bill Parment, a Democrat from western New York, told me just now. Majority Leader Ron Canestrari said as much to the Albany Business Review this morning.
I listened to Sheldon Silver speak this morning with Fred Dicker on WGDJ, and there was no optimism in his comments.
"There are difficult decisions to be made. This is almost like a triage situation, you know when there is a crisis in health care in an emergency room," Silver said. "You try and spread the pain as thinly as possible affecting as few people as possible and as little as possible. But to find the right mix and the right way to do it is difficult."
Silver told Dicker that Senate Republicans, despite their lack of control, are to blame for this stalemate. In doing so, he tacitly admits that the Senate Democrats are having a hell of a hard time rounding up their 32 vote bloc to forge a deal.
"What is allowed to happen is, Republicans in the senate determined, 'this is the 32 Democrats problem. Not our problem. We will stand with the special interests. We will stand on next year's election and say we're making no cuts,'" Silver said.