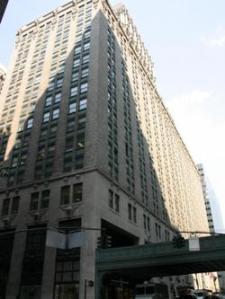 With its gilded pyramidal roof, marble interiors and cast-iron flourishes, 230 Park Avenue, the former Helmsley building, is arguably the most iconic New York building never scaled by a giant ape. Its enduring prominence in the city's skyline is reflected in its recent acquisition of tenants. Encyclopædia Britannica and Stanley Tools are moving to the building, and the City of New York renewed its lease for the chief judge of the New York Court of Appeals.
Encyclopædia Britannica signed a two-year lease for 1,630 square feet on the 15th floor, and Stanley Hand Tools signed a five-year lease for 2,340 square feet on the 18th floor. Brian Robin of Monday Properties, who represented the building in each transaction, said a distinctive characteristic of the landmark was its ability to cater to smaller tenants.
"It was easy to find a home for them here given their size, which is a challenge for small tenants in midtown," he said. "Further, here are exceptionally well-known brands that appreciate the value of a good address. Nearly everyone in the world, certainly in the city, knows this building."
The City of New York signed a seven-year renewal for the 4,040-square-foot offices of Judge Jonathan Lippman on the eighth floor.
Ramsey Feher of CB Richard Ellis represented Stanley Tools, and Mitchell Grossman of Corporate Real Estate Solutions represented Encyclopædia Britannica. The city negotiated directly with the landlord in the case of Judge Lippman's offices.
The building co-agency team of Monday Properties and CB Richard Ellis repped the building in all transactions. Mr. Robin said of the firms' relationship, "By teaming up with CBRE, we get great scale for outreach to the marketplace. And, in turn, we have excellent relationships with our tenants, so our renewal rate is very high, and that allows us to focus on the renewal and growth of tenants."
egeminder@observer.com