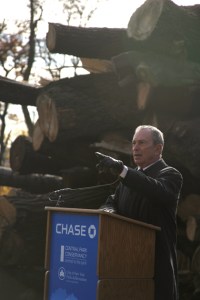 Jim Florio makes an argument that isn't helpful to Michael Bloomberg. "Now most of the people who run for U.S. Senate are millionaires who self-finance. It makes a campaign no longer honest in the public's mind."

Bloomberg said the choice for unions is between layoffs and givebacks.

Uniformed officers will be spared.

Bloomberg sides with Related on Kingsbridge, saying "the city is not in the business of guaranteeing people's wages."

Here's more on John Shadegg's remarks about the potential for Bloomberg's daughter to be kidnapped.

David Chen finds ways Bloomberg can act humble (grow stubble, ditch the suit).

Businesses say paid sick days would cost $8.8 billion annually.

2,275 city workers get driven to work at the taxpayer's expense.

Dick Dadey said the cars are a bonus the city can't afford now.

Jerry Skurnik cheers the Campaign Finance Board.
Applications to the police department rose 54 percent.
A traffic agent says "8:06 will be the new 8:01."
Pedicab fares are too high, said Jonathan Mintz.

Maureen Dowd defends Katie Couric: "Despite Palin's all-American paranoia, it is common practice to ask presidential candidates what they read."

Readers in the Hudson Valley seem to like Palin's book.

Chuck Schumer shops at Costco.

Cindy Adams asks Andrew Cuomo's girlfriend if they're getting married, and gets no answer.

The headline of Charles Sifton's obit in the Washington Post cites a case he ruled on in New York.

And the City Council inspires Bill Bramhall.