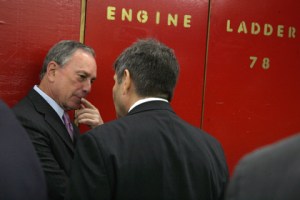 Ken Rudin's list of 2013 Democratic mayoral candidates: Bill Thompson, John Liu, Bill de Blasio, Scott Stringer, Anthony Weiner.
Gary Ackerman was at the State Dinner last night.
Liz Feld may run for Senate, says Sal Gentile.
Bill Thompson was spotted after a flight from Phoenix.
Chuck Schumer doesn't want Adidas to move operations overseas.
Maureen Dowd: "I often wondered if Craig and U.N. Ambassador Susan Rice, the other former Clinton official who helped undermine Hillary's foreign policy record, would have done so if they had known that after turning on Hillary they would once more end up working beside her; if they had known that Obama can often be more interested in wooing opponents than tending to those who put themselves on the line for him."
Here's more on the labor deal announced by Michael Bloomberg yesterday.
The Daily News reports on a Greenwich Village cancer patient going to visit the White House.
John Doherty is not leaving.
A Politics Daily columnist refers to Bloomberg as "the barely re-elected mayor of New York City."
Jon Friedman thinks Bloomberg should buy Newsweek.
The Macy's parade will bypass the new pedestrian plazas in Times Square and Herald Square.
NBA player Kenyon Martin blames Bruce Ratner for the Nets on-the-court troubles.
FaceBook stock, A and B class.
Election signs are hard to get rid of.