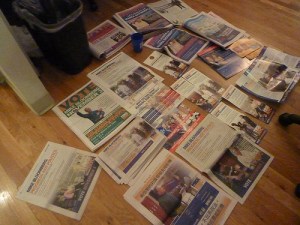 Joe Biden was in New York City, but did not help Bill Thompson.
John Liu notes a subtle change in Michael Bloomberg's campaign message: "You don't hear the economic savior argument anymore, do you?"
Both Bill Thompson and Bloomberg say they expect to win.
David Chen takes note of Bloomberg's courting of ethnic press.
Thompson whacks Bloomberg on black radio.
Thompson has the Larry Doby problem.
Chuck Todd notices the mayor's race.
"The Bronx will be the only consolation prize Thompson takes home," writes Swing State.
Randy Cohen looks at the ethics of encouraging voting.
AP Television does a spot on the race.
There goes the giant Bloomberg truck.
Here is Bloomberg's Independence Party literature.
Here are some palm cards.
Christine Quinn says to vote, but doesn't say for whom.
An "epic" blunder in Park Slope: campaign lit that looks like a parking ticket.
The people speak, via the New York Times.
The New York Times hits Vito Lopez for a holy robocall.
Ray Kelly said an incident involving black and white police officers "should have been handled in the street," not in an internal probe.
Michael Daly says "the act of voting is no less important when there is nobody you passionately support."