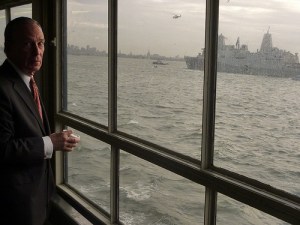 Michael Bloomberg's win was unexpectedly close.
"Rebuke," says Ben Smith.
Also, Anthony Weiner and the White House trade blame for Bloomberg's victory.
"[T]hose are the most expensive 5 points in American history."
"$157.27 per vote for Bloomberg."
Joe Mercurio says the narrow margin "indicates that Bloomberg really did have to spend all that money."
Hamodia calls it a squeaker.
Bloomberg looks placid on the front of AM New York.
The election is the wood of the Daily News.
But the Post finds something else to put on their front page.
Maybe Wolfson will buy an island.
Say good-bye to "the mayor's well-honed ability to cow Democrats and liberal interest groups."
Geoffrey Canada told the White House to butt out of the mayor's race.
Michael Goodwin: "It was not an inspiring or informative campaign."
Democrats play the "what if" game.
Jake Tapper doesn't think Joyce Purnick's story reads well a day later.
Nicole Gelinas hopes Bloomberg III does what Bloomberg I was supposed to.
Chris Anderson says you don't know yet what will define the third term.
David Seifman waits to see Bloomberg embrace the budget crisis.
Errol Louis: "He has anointed no successors, transformed no political institutions and created no lasting infrastructure to carry on beyond his time in office."
Juan Gonzalez finds voting booths with no voters.
Whites are in the minority in the City Council.
In Queens, Republicans win big: Eric Ulrich, Peter Koo and Dan Halloran won. But Liz Crowley held off Tom Ognibene.
And pictured above is Bloomberg late in his campaign.