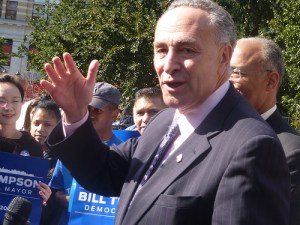 Chuck Schumer sets an aspirational year-end deadline for passing health care in Washington.
Geoffrey Davis, in a text message to a Room 8 blogger, says, "Billy met w/ I.P. Before Bloomberg. Go check it out."
Jerry Skurnik says the pessimism of 2009 doesn't square with a similar situation in 2001.
The Chief looks at Bill Thompson's fractured labor support. [$]
Richard Lipsky says Al Sharpton "pretended to be supportive of the comptroller."
Christine Quinn urges the legalization of same-sex marriage.
So does Bloomberg.
R.I.P. Judge Sifton.
OTB may shut two-thirds of their offices, says David Seifman.
City lawmakers will probe the new fire dispatch system in light of a deadly fire in Woodside.
Schumer/Paterson alum Risa Heller returns to the airwaves.
Mike Benedetto wants Jeff Klein's seat, if it's vacated.
Gabe Sherman goes inside Andrew Ross Sorkin's head.
Stephen Breyer throws Brown v. Board of Ed at Antonin Scalia in what Adam Liptak equates to a verbal fistfight.
Quinn gets some ink for a housing initiative.
Dan Halloran apologized for equating his "heathen" religion to the Greek Orthodox religion.
An amusing Cindy Adams headline: "Barbara Bush keeps it real."
From yesterday: Patti Harris was the wood of Metro.