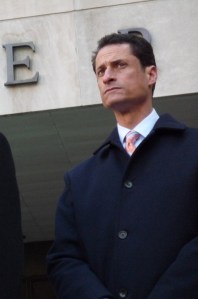 Hillary Clinton is one of the hawks.
Anthony Weiner said he could have beaten Michael Bloomberg. (Earlier, a White House official slapped Weiner for this kind of talk.)
Expect steep cuts from Michael Bloomberg.
A Manhattan blogger discovers which block loves Bloomberg the most.
The Post edit board hits the WFP for having Judith Kaye do an internal probe.
Lisa Colangelo says the teachers union contract will probably set a precedent for what other unions get.
This car from the department of buildings shouldn't be parked there, should it?
Juan Gonzalez looks at the FDNY's communication system.
Say good-bye to school aides.
"Justice Kennedy's office had insisted on approving any article about a talk he gave to an assembly of Dalton high school students on Oct. 28."
Con Ed considers six-percent raises for three consecutive years (which fits neatly between election years).
Marty Markowitz has big plans.
Not many people passing their GED tests.
Stefan Friedman, congrats.
And Cindy Adams learns how Chris Christie is losing weight.