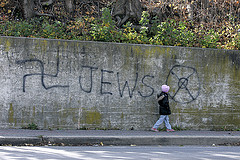 From NJ.com:
A swastika and the word "Jews" were reported spray-painted on a wall of the NJ Transit train station in Somerville last night. "This is unusual, we've never had anything like this in Somerville before," said Capt. George Fazio.
Stanley Stone, executive vice president of the Jewish Federation of Central New Jersey said the increase of swastikas in central Jersey over the past year have concerned the federation. "Clearly when things like this happen we find it disturbing, but before jumping to conclusions we want to make sure we have all of the information," he said.
And apparently these anti-Semitic graffiti artists were not only racist. They were stupid, too. They drew the swastika backwards.