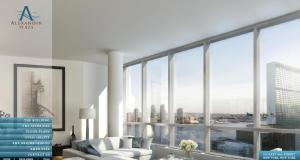 The United Arab Emirates has dropped a princely sum on a stalled development site in midtown east.
In an odd denouement to a development story that began in 2007, the Middle Eastern nation has paid $44.7 million to take the property at 313-317 East 46th Street, between First and Second avenues, off the hands of seller and real estate developer Alexander Gurevich. Property records indicate Mr. Gurevich bought the site from Gary Barnett's Extell Development for $40.95 million in 2007, taking out a $37.8 million mortgage from Lehman Brothers, which, at the time, was still alive and churning out commercial mortgage backed securities like an Adderall-drugged college student pumping out mid-terms.
Earlier this year, well after Lehman's demise, Swedbank, which had acquired the Lehman notes, began foreclosure proceedings on the property, as reported in The Real Deal. According to Mr. Gurevich, he later bought the property out of foreclosure and then sold it to the UAE. Swedbank could not immediately be reached for comment.
Mr. Gurevich had originally intended to build a glass-clad, 24-story condominium tower called Alexander Plaza at the site. Right now, six stories of concrete superstructure stand there, yet another skeleton of a development project felled by the economic collapse.
It's unclear what the UAE wants to do with the site. Phone calls placed with the UAE's embassy in Washington and its consulate in New York were not immediately returned, though given the property's proximity to the United Nations, a new consulate might well be in the making.
drubinstein@observer.com