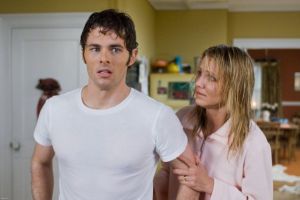 It looks like all it took for some movies that you actually might consider seeing to get released into theaters was a flip of the calendar. The first full weekend of November arrives with no less than five new films, and, as usual, there is something for everyone. As we do every Friday, here's a handy guide to the new releases.
A Christmas Carol
What's the story: Are you ready for Christmas? Yeah, we didn't think so. But that hasn't stopped Disney from trotting out yet another version of Charles Dickens' A Christmas Carol. This time around Jim Carrey stars as Ebenezer Scrooge, though the twist here is that his entire performance is motion captured and animated. Robert Zemeckis, apparently finished with flesh and bones—he is, after all, planning on a sequel to Roger Rabbit—directs what is sure to be a Polar Express-type money maker for years to come. It's in IMAX 3-D, people! Even Santa Claus couldn't resist that.
Who should see it: Tiny Tim.
The Box
What's the story: If you feel like The Box has been knocking around forever, that's because it has. Richard Kelly's follow-up to the inscrutable and unending Southland Tales was supposed to come out last November, and then again in early October. Now it's finally here, this November. This isn't necessarily a dump—it is opening in over 2,600 theaters—but don't get your hopes up (witness the 45 percent Fresh rating on Rotten Tomatoes). Based on a Richard Matheson short story, "Button, Button" (which was turned into a famous Twilight Zone episode), The Box stars a badly accented Cameron Diaz and James Marsden as a couple who find a box on their front porch that, if opened, will give them a million dollars… and kill someone they don't know. Oh, the moral implications! Cue the dun-dun-dun music!
Who should see it: Donnie Darko.
The Fourth Kind
What's the story: We know Hollywood loves piggybacking on to trends, but usually it takes more than a few weeks to do so. Ripping a page right out of the Paranormal Activity playbook, The Fourth Kind paints itself as a true-life look at some mysterious disappearances in Nome, Alaska, that were blamed on alien abductions. Wait, isn't that a close encounter of the third kind? Meh. This probably should have come out before Halloween.
Who should see it: Roy Neary.
The Men Who Stare at Goats
What's the story: Despite being the other George Clooney movie here in 2009—Up in the Air, with all its Oscar buzz, will be the one to remember—it feels like we should still be a bit more excited about The Men Who Stare at Goats. Mr. Clooney's good friend Grant Helsov directs this adaptation of Jon Ronson's book about the military's use of the paranormal and psychic soldiers. Don't worry—it might sound creepy, but it's a wacky comedy! The Men Who Stare at Goats has the look of a watered down Coen Brothers movie, complete with Jeff Bridges in a Dude-like performance as the founder of the psychic soldier program. The reviews have been mixed, but our Rex Reed spared no vitriol, calling The Men Who Stare at Goats a "cinematic Katrina" while comparing it to being "stung by a wasp on the inside of your eyelid." Ha! Also, ouch.
Who should see it: The Coen Brothers.
Precious: Based on the Novel Push By Sapphire
What's the story: Since the buzz machine on Lee Daniels' new film has been turned all the way up to eleven for a few months now—Tyler Perry and Oprah Winfrey signed on as executive producers after it appeared at Sundance; the New York Times did a massive Sunday magazine piece on the film and Mr. Daniels—logic dictates that the backlash would start eventually. And here it comes! While a majority of the reviews have been strong—the Observer's Rex Reed called it "one of the most unforgettable films of the decade"—there are a select few critics who don't seem all that impressed. Of course noted contrarian Armond White eviscerated the film (apparently Norbit is better), but both David Edelstein and Anthony Lane have their doubts too. Still, what everyone seems to agree on is that Precious is not for the faint of heart—the 16-year-old heroine is raped, abused, and worse. And while that might turn you off, since this is sure to be one of the films on the long list for Oscar (hey, 10 nominees!), you should probably find yourself a ticket anyway.
Who should see it: Madea.