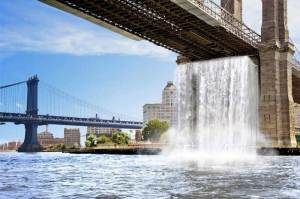 On the day before his first day as director and head curator of the Public Art Fund, Nicholas Baume took the ferry to Governors Island to admire a group show of emerging artists called "This World & Nearer Ones." The show was a multidisciplinary affair that consisted of works including a tent city and a cinder-block wall riddled with bullet holes. It had been curated and mounted by Creative Time, an organization that most people in the New York art world regard as the Public Art Fund's chief competitor.
Mr. Baume is Australian, and he arrived in New York this fall at the age of 44 by way of Boston, where he spent the last 6 years as head curator of the Institute of Contemporary Art. The only other time he has lived in New York was in the late 1980s, when he spent one summer as an intern in the drawings department at the Museum of Modern Art and another as a junior curator at the Grey Art Gallery at N.Y.U.
Mr. Baume's appointment as director of the Public Art Fund signals a sort of reboot for the 32-year-old organization, whose presence in the city is thought to have diminished following the 2005 resignation of longtime director Tom Eccles. The post-Eccles era at the Public Art Fund, overseen by Rochelle Steiner before she stepped down last spring, was marked by a significant decrease in the number of projects being produced because the organization was devoting so much money and manpower to the realization of The New York City Waterfalls, the hugely ambitious and expensive installation by artist Olafur Eliasson.
"There were other things as well, but every decision is going to have its opportunity cost, and as an organization you have to decide where to put your resources and your energy," Mr. Baume said in a recent interview. "The waterfalls were the really big project. There isn't a lot in the pipeline now, but that's great for me, in the sense that I get to dream up the program and get it going."
"He has a clean slate in terms of programming," said Public Art Fund president Susan Freedman, who led the search committee that hired Mr. Baume over the summer. "You can look at that as rebooting, but it's an opportunity."
Less than two months into his new job, Mr. Baume is so far unwilling to go into specifics about how the Public Art Fund's priorities might change under his leadership. He did say, however, that he is looking forward to commissioning work from artists with whom he has worked in the past—a list that includes Sol Llewitt, Thomas Hirschorn, Anish Kapoor and Cornelia Parker—and exploring the intersection of art and architecture.
'There isn't a lot in the pipeline now, but that's great for me.'
He added that he wants to commission work from artists all over the world to reflect New York's status as a "global city."
Mr. Eccles, an outspoken Scotsman who is now the executive director of the Center for Curatorial Studies at Bard, said Mr. Baume's first order of business should be to make himself at home in the city.
"What he needs to do is become a New Yorker for a while, you know?" Mr. Eccles said. "That's probably the most important thing in that job. Because you're making work for New Yorkers, right? You have to be empathetic, understanding and in dialogue with people of very different strata of the city: You need to know the guy who sells hot dogs and the titans of real estate. … You don't make the city, the city makes you, you know? "
Mr. Eccles said Mr. Baume should be ready to familiarize himself with the idiosyncratic and complex work of attaining permissions and funding from the city government, and to apply a set of social skills he may not have had occasion to practice in his museum career.
"You're dealing with a lot of people who are either in power or who feel empowered," said Mr. Eccles. "It's a very different kind of bureaucracy, and it's got some rough and tumble. … You're almost running for election every day in this position. You do have the New York Post after you, and you do have to stand up for what you believe in."
Mr. Baume said he is undaunted by the city bureaucracy, not least because the Bloomberg administration—unlike the Giuliani administration—has been consistently and uncommonly supportive of public art projects.
He also said that he plans to continue the Public Art Fund's tradition of being artist-centric as opposed to tailoring projects to community needs or municipal development efforts.
"I'm curious to hear what people think—not because I'll do what everyone wants me to do but because I want people to feel invested in the enterprise and supportive of it," Mr. Baume said. "But I wouldn't want us to be seen as implementing anybody else's agenda."
So far Mr. Baume has been spending his time walking around the city looking at potential sites and reaching out to artists and gallerists. He has hired a deputy director, Richard Griggs, a longtime project manager at the Public Art Fund who gave up his full time position with the organization after Mr. Eccles stepped down. The first show to open under Mr. Baume's watch is a group sculpture show called Double Take at the MetroTech Center in Brooklyn.
lneyfakh@observer.com