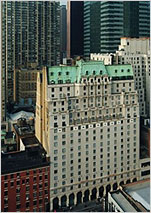 The city's Landmarks Preservation Commission on Tuesday designated the Paramount Hotel, La MaMa Experimental Theatre Club and two Eighth Avenue townhouses as landmarks.
The Paramount Hotel, at 235-245 West 46th Street between Broadway and Eighth Avenue, was built in 1927 and 1928, according to Community Board 5, which endorsed the landmarking in June. Theater architect Thomas Lamb designed the building, his only hotel design, built for visitors to Times Square.
Features include a "double-height arcade faced with marble, elaborate terra cotta ornamentation on the third story," and "a deep, copper mansard roof with richly ornamented dormers with broken pediments, volutes and cartouches of terra cotta," and an "exuberant Renaissance Revival style [that] complements the dramatic atmosphere of the theater district," according to the Community Board.
The hotel was renovated this year by Ian Schrager, the godfather of boutique hotels.
The Aschenbroedel Verein Building, at 72 East 4th Street between Bowery and Second Avenue, opened in 1873 to house the "Cinderella Society," a German-American cultural association, according to the Municipal Art Society of New York. In 1892, another German organization, the Gesang Verein Schiller Bund, took the four-story building. But the German population in the area would eventually move uptown, and the La MaMa Experimental Theatre Club would convert the building into a theater in 1969.
La MaMa, founded by Ellen Stuart, would eventually expand to 66 East 4th Street and 47 Great Jones, according to its Web site. The organization now has three theaters–"The First Floor Theatre," "The Club," and "The Annex"–as well as an art gallery, a story-story rehearsal/studio building and an archive of off-off Broadway theatre.
The two Federal-style houses are at 145 and 147 Eighth Avenue, between 17th and 18th streets, were also landmarked. The one at 145 Eighth Avenue was built in 1827; 147 Eighth Avenue was constructed in 1828, adjacent to 145, according to the LPC. The architects are unknown. Both buildings are three-and-a-half stories, with retail space in the ground floor. The boutique Marc Ecko Cut & Sew closed at 147 Eighth Avenue in June.
The LPC also designated as a landmark the Vanderzee-Harper House in Staten Island. It also scheduled public hearings on the Greyston Estate gatehouse in the Bronx and the former Eleventh Street Methodist Episcopal Chapel in the East Village, the first step toward landmarking the buildings.
rli@observer.com