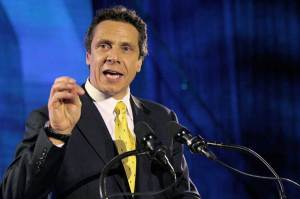 ALBANY—After lunch with some lobbyists, the chairman of the New York State Democratic Committee, Jay Jacobs, visited the party's offices on South Swan for a session with the leaders of several local county organizations.
It was two weeks after Election Day, and Mr. Jacobs was contending with something of a black eye. Republicans had won back the Legislature in Mr. Jacobs' home county, Nassau, and County Executive Tom Suozzi, a Democrat who was thought to be destined for a statewide post, appeared to have suffered a narrow loss. Republicans also won in Westchester, Dutchess and Erie counties, a bad indicator for the 2010 cycle, which could also feature a nasty contest between David Paterson and Andrew Cuomo to lead the party ticket.
It didn't take long for some of the local chairs to ask Mr. Jacobs what would transpire between the men—some elected and party officials have said they do not want to see Mr. Paterson run—and whether they could publicly back one or the other.
"This governor's race is going to take care of itself," Mr. Jacobs said, according to the recollection of one attendee. "The fund-raising is going to tell the story. Just wait until January. Continue doing what you're doing, don't get yourself involved. It will take care of itself." Other attendees confirmed the gist of the quote.
(Reached by phone a couple of days after the event, Mr. Jacobs at first declined to comment on what he said was a private discussion, then said, "That is not the proper context of my remarks." Later, he said, "The context of my comments was to encourage patience with the process and to remind everybody that the governor is dealing with the budget process. Anything to the contrary is frankly untrue.")
Most donors, operatives and party officials know what story will be told: Mr. Cuomo, the popular attorney general, is raising money by the wheelbarrow; Mr. Paterson, the incumbent governor who spends his days attempting to shame an entire class of unshameable state legislators about the state's unbalanced budget, is sputtering.
Mr. Cuomo insists his only plan "at this time" is to run for reelection as attorney general, and Mr. Paterson insists he is running for governor. The expectation around the Capitol and in lobbying circles is that a lopsided showing will change that.
"It's a big test for David Paterson," said Hank Sheinkopf, a Democratic political consultant. "If he's got a third of what Andrew Cuomo has in the bank, it's not great."
Just how lopsided the filing could be is a favorite topic of speculation in Albany. The campaigns will disclose their semi-annual numbers on Jan. 15, but a source familiar with Mr. Cuomo's campaign said he is on pace to match the $5.1 million he raised during the last period, giving him about $15 million in his bank account. Many donors predicted a higher showing, and Bloomberg News reported last week that Mr. Cuomo has broken $16 million. His campaign does not have a manager or a spokesperson, or a retained pollster, but pays more than a half a dozen fund-raising aides—Stephanie Berger, Cindy Darrison, Amy Dowell, Ryan Naples, Diana Doukas, Cathy Blaney and Jennifer Bayer Michaels.
(Mr. Cuomo's official spokesman declined to comment, and referred questions to the campaign, which did not answer them.)
Mr. Paterson reported $5.4 million cash on hand in July, and is on track to spend $2 million to air two television ads designed to portray him more sympathetically and telegraph to the political class that he means it when he says he will run for governor. His campaign aides are insistent that he will demonstrate broad support and interest in his candidacy at a holiday reception planned for Dec. 9, but many donors indicate they are giving the governor a fraction of what they are giving Mr. Cuomo, if they are giving him anything at all. As early as this summer, a number of the donors listed on the host committee for Mr. Paterson's birthday event were hedging.
Mr. Jacobs left Albany after his Thursday meetings last week and was not in town when Andrew Cuomo arrived the next day for three fund-raisers.
The first of the three was at the offices of Wilson Elser, the largest lobbying firm in town. It was an intimate affair, with the firm's clients mingling with the attorney general on a ninth-floor conference room in Albany's newest office tower, which looks up at the Capitol and out over the Hudson River.
More people attended a luncheon for Mr. Cuomo at the Ft. Orange Club. (There weren't enough seats to accommodate them.) Mr. Cuomo was introduced by Albany Mayor Jerry Jennings, a longtime ally whom Mr. Cuomo endorsed in a primary this year. Attendees estimated the crowd at between 50 and 100, including a cross section of unelected state government fixtures—among them were lobbyists John Cordo, James Featherstonhaugh and James McMahon, whose firms bear their names, and political strategist Jennifer Cunningham—and Albany real estate executives. As donors (the minimum ticket was $500) picked at unremarkable plates of sirloin and rolled fish served with rice and a medley of polychromatic peppers, Mr. Cuomo reviewed the great work he has done as attorney general, particularly the passage of a bill that makes it easier to strip away local governments.
Then the rhetoric grew loftier. Mr. Cuomo talked about how New York had been a progressive leader in the past on issues of women's rights and environmental protection, and should be setting an example for the other 49 states. He received a standing ovation before leaving for a private meeting with the board of the Corrections Officers Police Benevolent Association at its Hackett Boulevard office. One donor close to Mr. Cuomo estimated that he had raised $125,000, at least, over the course of the day.
Not far away, Mr. Paterson was busy being a hard-times governor. At an Americorps kick-off event that was not a political fund-raiser, the governor offered a worst-case assessment of what might happen if no action is taken to address a $3 billion midyear budget imbalance: "furloughs, layoffs, borrowing, downgraded credit ratings, delayment of payments to schools, delayment of payments to local governments, delayed payments to service providers, delayed payments to the workforce."
The next day at yet another press conference he'd called to bash legislators for their continued inaction—"this is basically fiddling while Rome is burning"—Mr. Paterson's words conveyed self-pitying frustration with his political lot: that he must deal with the current governmental crisis while others do not.
(Meanwhile, the governor has been unable to keep up his own fund-raising schedule without drawing criticism: While he was at a luncheon in Buffalo on Nov. 23, with the budget deficit still unresolved, Mr. Paterson was attacked by Republican Senate Leader Dean Skelos, who urged him to "put aside the politics and posturing, stop the campaign to raise cash and his poll numbers, and focus on doing his job.")
To a question he received at the press conference about the ambitions of Rudy Giuliani, Mr. Paterson gave the following, general-sounding answer: "I just don't have the time to sit around and speculate with you about who's running, who's not running, why they're running and whether or not other people are taking advantage of what they're running."
In an emailed statement to The Observer specifically about Mr. Cuomo's fund-raising, Paterson campaign adviser Tracy Sefl was somewhat more explicit about this dynamic.
"Mr. Cuomo has a voracious appetite for vacuuming up political money and, according to recent reports, plotting his political future from the shadows," Ms. Sefl said. "He does not seem to have that same appetite when it comes to offering his ideas on New York's economic recovery or plainly admitting his political ambitions. Governor Paterson, quite frankly, is the opposite of that."
For all the good it will do him come January.