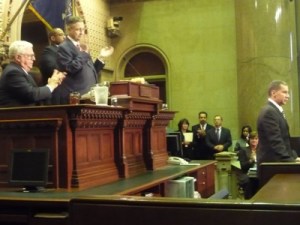 ALBANY—David Paterson arrived late for his big speech, and before an Assembly chamber that featured over a dozen empty chairs, delivered a blunt message: "Frankly, we are running out of money."
"At this moment, all of us assembled in this chamber stand as the last defense between our state gong into a downward economic spiral that threatens to engulf generations of future new Yorkers," Paterson said. "We cannot, we must not risk the future of our children and our children's children to borrow money we don't have."
The tone of the speech was urgent, but it did not cover any new ground. Paterson pointed to the woes of other states, and talked about the leadership he has already provided in dealing with the deficit. Lawmakers sat mostly stoically. Paterson alluded to "wishful thinking" of lower deficit numbers and the need to end the "tried and failed remedies of taxing and spending."
"I am proposing $686 million of reduction from education and a $471 million savings from health care. These will be very difficult cuts for your constituents," Paterson said. "I understand. I have spent my whole career fighting for improved access to education and decent affordable health care."
"But if we do not make these decisions now, we will subject our state to what may be a downgrade in our economic situation such that the economic forces will be beyond our ability to control. Therefore, we have to act now," he said.
Interestingly, as he asked legislators for help, Paterson said this: "I will endure the heat of the special interests. I have mortgaged my political career on this plan, but I will not mortgage the fate of the state of New York."
Many lawmakers were grousing about the need to listen to the speech, which lasted less than 30 minutes. The only applause the governor received were when he called for the State Senate to pass same-sex marriage this week.
"As a courtesy, with respect to the governor, we're here," Senator Malcolm Smith told me. "I think we could have been better served getting eight or nine members together and negotiating for 24 or 48 hours straight."
"He didn't need to do this," Senator Tom Libous, a Republican, told me.
Some Assembly Democrats were friendlier in their reception.
"It was the best speech I've ever heard him give," Assemblyman Jonathan Bing said. "I'm serious."