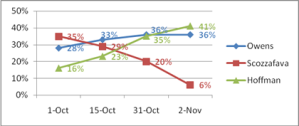 ALBANY—An Election Eve poll finds Doug Hoffman has taken a five point lead over Bill Owens, his remaining opponent to replace John McHugh in Congress, a six-point surge over the weekend as Owens' support remained stagnant.
Forty-one percent of the 606 "likely voters" surveyed on Sunday by Siena College said they favor Hoffman compared to 36 percent for Owens, the Democratic Party's nominee. The number of undecided voters has doubled to 18 percent from a poll taken last week.
This poll shows Hoffman had a 13-point surge among Republican voters over the weekend, but that Owens picked up 8 points of independent support. (Marginally related: he received the Independence Party's endorsement this weekend.) Assemblywoman Dede Scozzafava, who dropped out of the race Saturday and endorsed Owens Sunday, still polls at 6 percent.
This is bad news for Owens: he was counting on Scozzafava supporters to break his way, but that doesn't seem to be happening.
"Hoffman continues to demonstrate momentum, picking up six points since Scozzafava pulled out," Siena pollster Steven Greenberg said. "It appears, however, that the majority of Scozzafava's supporters have gone to neither Hoffman nor Owens, but rather into the undecided column, which has doubled since Scozzafava ended her candidacy."
Which may do for now. But in Jefferson, Lewis and St. Lawrence counties, Scozzafava's stronghold, Owens gained six points since Saturday while Hoffman gained eight. Owens' numbers declined in the eastern portion of the district, his stronghold, as well as in the southern area around Oswego, where he is down five points. Hoffman, by contrast, surged seven points in that area.
Further, as he was freed of the spoiler label, Hoffman's favorability ratings in the district increased six points to 47 percent; Owens declined by three points.