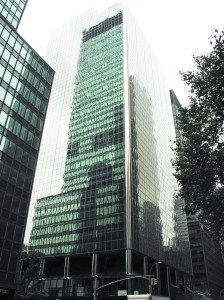 Connecticut-based publishing firm Asset International is seeking to capitalize on the juncture between big money and demand for industry-specific news. Its new digital magazine ai5000 targets the 5,000 largest pools of capital in the world. Investment funds, giant pension plans, foundations, endowments—all up for grabs. The private-equity–fueled publisher (it was bought by Austin Ventures last year) has also recently been adding to its portfolio of financial trade publications as well as to its data and analytic providers.
Now the firm is expanding its offices into Manhattan, taking residence at 805 Third Avenue, where its soon-to-be neighbors (Sumitomo Mitsui Asset Management, DBS Vickers Securities, Horizon Media, Extell Development Co, the Greenwich Group, EFG Capital Corp) are doubtlessly well entrenched in the same 5,000 financial hot spots.
The 23,800-square-foot office space encompasses the entire 21st floor and boasts what building broker Steve Chasanoff of FirstService Williams calls "spectacular city and East River views." Mr. Chasanoff also said that, like most tenants in today's market, Asset International "was confronted by a bewildering variety of expansion options." And 805 Third presented the most "compelling" bid.
FirstService Williams' Jonathan Plotkin represented the tenant. FirstService Williams' Mark Jaccom and Robert Bakst, along with Mr. Chasanoff, repped building owner Cohen Brothers Realty Corporation.
egeminder@observer.com