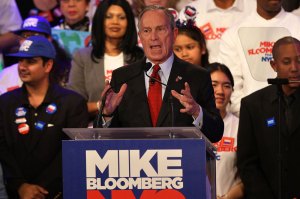 Michael Bloomberg's embarrassingly narrow victory margin last week may embolden Democrats to do in his third term something they largely refused to do this year: attack him.
With all the world assuming that the mayor was coasting toward a re-election landslide – and with polls showing him running even with (or even slightly ahead of) Bill Thompson among registered Democrats – most big-name Democrats, in New York and nationally, calculated that there was more to be lost than gained in going after Mr. Bloomberg.
Chuck Schumer, for instance, issued only a perfunctory endorsement of Mr. Thompson, a declaration most notable for Mr. Schumer's staunch insistence that he would have nothing negative to say about the mayor.
And President Obama, who paid three visits to New Jersey on behalf of the Democratic candidate for governor there, struck a back-channel agreement with the mayor not to campaign for Mr. Thompson – and only to endorse him through a spokesman on a Friday afternoon.
But when Election Day rolled around, Mr. Bloomberg barely cleared the 50 percent mark, beating the woefully underfunded Democratic nominee by just 4.6 points – a far cry from the 19-point landslide he enjoyed in 2005. Had Mr. Bloomberg replicated, or even improved upon, that '05 performance this year, the Democratic love-fest would have continued well into his third term – even among his would-be Democratic successors.
Instead, though, last week's results have awakened Democrats (and the press) to the more complicated reality of Mr. Bloomberg's public standing in New York: In short, voters still generally approve of his performance – 70 percent of them, according to the exit poll conducted last week. (That number, it should be noted, is slightly inflated, given that the exit poll missed the closeness of the vote.) But they also resent his heavy-handedness, his obscene campaign spending and his transactional nature.
What's more, New Yorkers' growing personal distaste for their mayor will probably start dragging down his job approval rating soon. Lingering economic anxiety (barring a miraculous turnaround) and the seemingly inevitable voter fatigue that accompanies every third term practically ensures this.
All of this, in turn, will mark the mayor as a big, inviting target in the race to succeed him. And since that race, which won't officially be settled until the September 2013 Democratic primary (or possibly the November '13 general election), is essentially under way now, so is the mini-contest among the contenders to distance themselves from the mayor.
Take the mayor's invitation to Bill de Blasio, the public advocate-elect, and John Liu, the comptroller-elect, to sit with him at a diner – and in full view of the cameras – on the morning after the election. (The diner photo op is one of Mr. Bloomberg's favorites.) Both Mr. Liu and Mr. de Blasio are likely '13 aspirants.
Mr. de Blasio accepted and attended. But Mr. Liu didn't, choosing instead to greet commuters in Queens. Bloomberg aides apparently told reporters that the mayor had been snubbed. Mr. Liu shot back that "A long time ago, the people of New York decided there would be no king nor a monarch in New York City."
A Liu (and de Blasio) adviser later said the quote was taken out of context and that Mr. Liu simply hadn't been given proper advance notice by the mayor. There might be something to that, but either way, Mr. Liu looked very much like a man waiting for an excuse to attack.
The episode probably played better for Mr. Liu among Democrats than it did for Mr. de Blasio. His confrontational demeanor had to catch the eye of a few of the rank-and-file Democrats who are angry that their party rolled over for a billionaire mayor who won by less than five points.
We'll see how cooperative Mr. de Blasio is the next time he gets an invitation. And we'll see how the rest of the potential '13 field reacts.
Manhattan Borough President Scott Stringer, for instance, endorsed Mr. Bloomberg's push for a term limits extension last year. Back then, it seemed like a safe play. Mr. Bloomberg was (or seemed) very popular; Mr. Stringer was unknown. But now, look for Mr. Stringer to suddenly discover the dark side of Mr. Bloomberg's tenure.
Anthony Weiner, who let the mayor's hired guns scare him out of this year's race, can read election results as well as anyone. He'll have no problem going after Mr. Bloomberg.
The most interesting case is probably Council Speaker Christine Quinn, whose closeness to Mr. Bloomberg – thank her for the term limits extension – caused her headaches in the Democratic primary in her own district. She can cling to the mayor now and probably hang on to her leadership post, but at what long-term cost? Voters nearly denied Mr. Bloomberg a third term last week; they aren't going to vote for a fourth one in 2013.