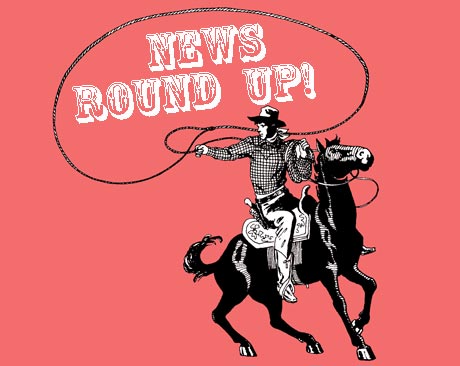 Pardner, you're a busy person. You need a news round-up you can just nibble on, and then get on with your day. So here goes, NJ buckeroos:
Highland Park restaurant offers customers 'pay what you can' option-Elected officials go there in droves

HIGHLAND PARK — It's not "all you can eat." It's more like whatever you can pay. A restaurant here is offering customers an innovative dining option — choose the size of your portion, then pay what you want. People who can afford to pay extra help subsidize those less fortunate. A Better World Cafe, housed in an historic brick church, is the fifth restaurant of its kind in the nation, which some are nicknaming "Robin Hood restaurants."

Who are their most frequent customers? You guessed it: New Jersey elected officials.
Mayor Brian Wahler of Piscataway, a frequent customer, finished his tomato soup, and said that he "forgot his wallet" yet again. Mayor Michael Wilson of Freehold, after his chicken salad sandwich, indicated that he had to "submit a voucher for payment to his Borough CFO", and that "the check would be in the mail" soon.

Former N.J. gubernatorial candidate Daggett seeks state ban of robocalls

Former independent gubernatorial candidate Chris Daggett's campaign today asked for a state investigation into automated calls it says "severely damaged our candidacy." Daggett came in a distant third on Election Day , when Republican Chris Christie won the governor's race by defeating Democratic Gov. Jon Corzine.

Mr. Daggett started an advocacy organization called Ban RoboCallsNJ, and was seeking volunteers to assist in calling other citizens to gain their support. At a press conference last Monday, Daggett said, "I shall begin a campaign immediately to lobby the Legislature and call upon them to ban robo-calls entirely."

"We will be phone banking all this week from my former headquarters, and we need at least one hundred volunteers per week for an effective campaign." Mr. Daggett indicated that there were no volunteers as of yet, but would be hiring www.dialmycalls.com to assist with contacts. "We need to make use of the new technologies to get out our message effectively and quickly before the end of the Lame Duck session."

Bloomsbury man snaps photo of I-78 vehicle fire

Scott Papics, of Bloomsbury, was coming home from work at Lowe's in Flemington about 3:25 this afternoon when he came upon a vehicle fire in the Interstate 78 median near mile marker 9 in Bethlehem Township, N.J. He was stopped in traffic on I-78 East when he snapped a photo with his iPhone.

Amazingly, his phone had a camera and he was so stuck in traffic, that he had time to snap a photo, write this story for the Star-Ledger, file it with the AP Newswire, and broadcast it from his car on to NJN—all before exit 15 on I-78. The Star-Ledger immediately laid off twelve more reporters and six photographers, and began hiring commuters stuck on I-80 and the I-287.