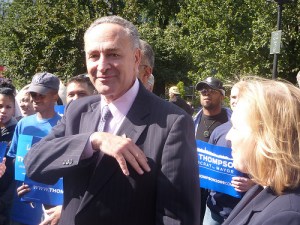 Senator Chuck Schumer said the Obama administration shouldn't rush to a decision on whether to send 30,000 more troops to Afghanistan, which the president's advisers are reportedly urging him to do.
Standing in front of the Manhattan Veterans Affairs office, Schumer—joined by New Jersey Senator Robert Menendez—said the number-one job is to protect the country from terrorism.
Both senators agreed it would be better if the military can achieve that goal from the air with fewer troops.
"The $64,000 question is, can we do it with a smaller number of troops" Schumer said, when asked about Afghanistan. Mendez added, "We should be organizing a counterterrorism effort instead of a counterinsurgency effort."
The two senators came together, on Veterans Day, to announce their new "Homes for Heroes" program, which is an effort to expand homeless veterans programs in New York and New Jersey. According to Senator Schumer, one in four homeless people in American are veterans.
"Today we exalt them, but tonight there will be veterans sleeping in subways and on park benches," Senator Schumer told the crowd. "It's a disgrace."