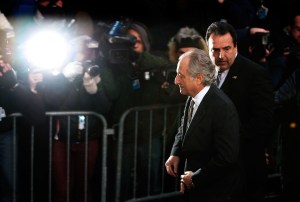 Sure, Bernie and Ruth Madoff had a pair of diamond earrings, five fur coats, Christofle flatware, Tiffany placecard holders, dozens of Audmar Piquet watches, and a hipstery satin Mets jacket, but of all the items going up for auction this week, it's apparently the duck decoys from their yard in Montauk that are generating the most interest.
"There's huge interest" in the Madoff items, U.S. Marshals spokesman Roland Ubaldo told The Wall Street Journal. "I've been getting calls from duck-decoy aficionados. People are interested in his fishing rods and his sports memorabilia."
The duck decoys are expected to fetch between $53 and $80 dollars, which can't be particularly encouraging for Madoff investors, who get repaid, in part, with the proceeds from whatever sells. The Marshals wouldn't say how much they expect to recoup, but The Journal added up the low end of the estimates–$90 for their stationery; $14,000 for Ms. Madoff's earrings; and so on–and came up with $500,000 dollars.