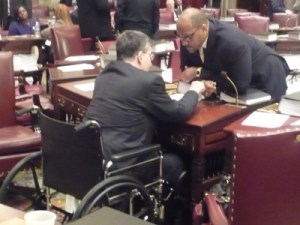 ALBANY—It seems the State Senate Democrats are coalescing around a deficit reduction proposal–the question is whether it will be acceptable to everyone else.
"I said last night we're only $200 million apart on a $3.2 billion DRP," State Senator Liz Krueger said this morning. We've gone back in this morning with a number of additional proposals, as the governor himself has said that he would come back with."
"I hope that we get this done before the weekend," Senator Malcolm Smith said. "We're close. We're still working. Senator Sampson is meeting now with some of the finance people."
Legislators today met in a closed-door conference to discuss the outlines of a proposal. It would include cuts to health care and education, but the health care cuts would be structured to avoid the loss of federal matching funds and the education cuts would not be directly for school aid, according to Senate sources.
Many of the sweeps and one-shots proposed by David Paterson in his deficit-reduction plan remain. It's unclear whether the overall number that the Senate Democrats are willing to vote for as a bloc will total the $3.2 billion that Paterson has set as a target.
Democratic Leader John Sampson came onto the chamber floor briefly where members are lingering. He spoke with Senators Darrel Aubertine, Neil Breslin, Brian Foley and Jeff Klein before walking to a meeting in the office of with Senate Republican Leader Dean Skelos.
It seems there's a game of who's-pushing-who going on, with David Paterson continuing to rattle sabres as negotiations continue. He has said, variously, that a deficit plan must contain real cuts and that he will accept something that bridges the deficit that is agreeable to all parties. Senator Pedro Espada Jr. told me this about the governor:
"I think the challenge to the governor is that an executive needs to consider all options and not be fixated on particular cuts because one needs to appear tough," Espada said.
If Paterson does not agree to a plan that contains fewer cuts–which appears to be the only thing able to gain 32 Democratic votes in the Senate–some of the chamber's Republicans would be needed.