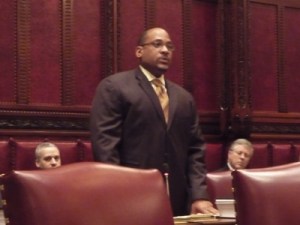 ALBANY—The State Senate just convened, and then adjourned, without doing anything.
Democratic Conference Leader John Sampson gave a two minute speech after a longer invocation by Fr. Anthony Mellace of St. John the Baptist in Rome, N.Y., which included pleas for bi-partisanship and a recitation of Emma Lazarus' poem from the base of the Statue of Liberty.
"I understand the anxiety everyone has that we need to get this done," Sampson said. The body gaveled out until 11 a.m. Tuesday, and Sampson was swamped by reporters.
He told us that other business–including an agreed-upon measure to strengthen oversight of public authorities–would wait until after a deficit reduction agreement was reached.
"First things first, we need to do the DRP, so we can have the people of the State of New York relax, have our school districts understand that they're not getting any cuts, our institutions, our hospitals, can plan for next year," Sampson said.
On the floor, Sampson praised Dean Skelos, the Republican leader, with whom he is allied in opposition to David Paterson's insistence on mid-year cuts to school aid. This remains the sticking point between senators of both parties and David Paterson, who insists that cuts be made now.
"If you plan your budget for a year, and all of a sudden, they say you're going to have to cut this budget when you've already planned, you're going to be pretty upset, because you have to find resources elsewhere which you may not have," Sampson said. "But if you understand that next year you're going to be facing these cuts, you're going to do what you have to do now and prepare for next year."
He also said he "rather do it early than late," though there is no clear drop dead deadline. Not that the State Senate is good at abiding by them.