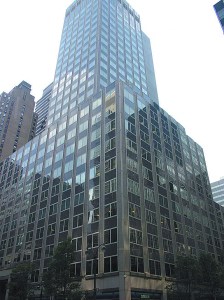 Sentry Centers has hinged its business plan to two all-but-certain fixtures of the Great Recession: increasingly budget-minded executives, and miles of vacant office space. The plan is to transform large swaths of idle space into business conference facilities, taking aim at the hotel industry, which provides similar services for substantially higher prices.
The first of these executive business spaces—part catering hall, part conference room—is set to open on three floors of TIAA-CREF's 730 Third Avenue. The leasing agreement also grants Sentry the concession to operate the building's restaurant and executive dining room, which it will use to provide catering services to its clients.
Sentry plans to charge roughly $220 per person for the use of its space, which will include, it says, service and facilities superior to hotel offerings.
Mark Magarity, Sentry's CEO, says the 43,000-square-foot space is just the beginning. "We're actively seeking similar lease arrangements with commercial landlords in Manhattan and other urban cores for dedicated corporate meeting spaces," he said. The company is targeting locations between 10,000 and 50,000 square feet in its search.
egeminder@observer.com