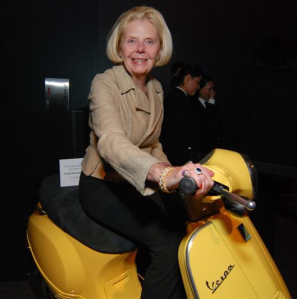 Back in February 2008, when the doyenne real estate broker Sharon Baum announced that she'd no longer be driving a hunter green Rolls-Royce Silver Spur–upholstered in camel-colored leather, and blessed with her famous "SOLD 1" custom license plate–it was an early sign that the Upper East Side's long era of sparkly glitz was ending.
Ms. Baum, who dated Michael Bloomberg after Harvard Business School, sold a record $40 million townhouse, and is known for wearing a diamond brooch that matches her Rolls' plate, said at the time that she'd be using a Vespa instead.
The scooter experiment did not end well.
"My husband of 40 years," she said last week, "whom I love more than the whole wide world, was riding it and had an accident." He was driving in Greenwich, Conn., when a car stopped short in front of him, she explained. "Broke his leg in three places. Was all banged up. Bleeding. I was not on the Vespa with him, thank god, because I usually ride with him."
Mr. Baum was on crouches for their son's wedding in Los Angeles.
"We're not riding any more two-wheeled vehicles," said the broker, who turns 70 in January. "As much as we hated to, because it was so attractive and had almost no miles, a man came this very morning and paid cash and took the Vespa away. I got an email from my husband: 'So sad the Vespa is gone,' with a little cry figure."
What will she drive now? "I didn't get rid of the Rolls, because the sentiment was so strong, the emails that I got and everything, saying that I should keep the Rolls. So, no, I still have the Rolls."
It would be nice if that was a sign of the times for New York in general: A proud return to once-hidden opulence! But it's not. In the past month, Julian Schnabel's triplex penthouse sold for $10.5 million instead of $32 million, Walt Disney's grandniece lost $3.55 million on a West End Avenue deal, and the $64 million Sloane Mansion was re-listed for $39 million.
mabelson@observer.com