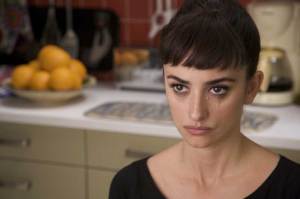 Broken Embraces
Running time 128 minutes
Written and directed by Pedro Almodóvar
Starring Penélope Cruz, Lluís Homar, Blanca Portillo, José Luis Gómez, Tamar Novas
Broken Embraces, Pedro Almodóvar's latest, is one of those happy moviegoing experiences where you get a bit of everything—love, sex, style, wit, thrills and mystery. And if you somehow weren't already sold on the ridiculous gorgeousness of Penélope Cruz, this should do the trick.
This is a film about storytelling, duplicity and memory. Well, it's actually about a lot of other stuff, too. Harry Caine (Lluís Homar) is a blind writer who lives under his former pseudonym; in his old life he was Mateo Blanco, a film director, but after the car accident that took his sight and his love, he gave up Mateo and became Harry Caine full time. Mr. Almodóvar sets up the tension nicely, cutting back and forth between flashbacks and confusing the chronology a bit, as he slowly teases out the steps that led to the current Harry Caine's existence.
It would be a shame to spoil any of the twists and turns of this well-plotted film. Needless to say that Ms. Cruz's Magdalena has everything to do with the mystery and tragedy of Harry Caine. We meet Lena while she's a secretary to a powerful man, later becoming his mistress, but really all she wants to do is act. As soon as she lands a role in Mateo Blanco's film Girls and Suitcases (clearly a take on Mr. Almodóvar's Women on the Verge of a Nervous Breakdown), one senses the course toward tragedy has been charted. Watching Ms. Cruz play a bad actress is almost as fun as watching her really act. She flirts and sulks and poses like nobody's business, and there is a certain magic that happens when she acts for Mr. Almodóvar that has yet to be replicated in her other work.
Broken Embraces will be a fun guessing game for movie buffs, with homages and references scattered freely throughout—Rossellini, Malle, plus countless noir moments that will have many people comparing this movie to old Hitchcock thrillers. But perhaps most satisfying of all is how emotionally affecting the film becomes, after all of its myriad pieces are revealed.
svilkomerson@observer.com