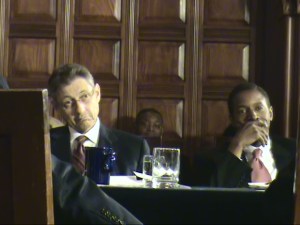 Public housing advocates and elected officials rallied on the City Hall steps for more than a half hour this morning, demanding the city and state give more money to the New York City Housing Authority.
The group – which was led by Assemblyman Brian Kavanagh and State Senator Daniel Squadon and included Assembly Speaker Sheldon Silver – said NYCHA will have an operating deficit of $137 million in the 2009-2010 fiscal year. To plug that budget, they want the city to stop charging NYCHA $70 million for police and sanitation services. They're also looking for cash infusions from the state and federal government: $64 million for "state-built developments," $30 million for "city-built developments," plus $100 million from federal stimulus funds to pay for the "weatherization" of NYCHA buildings.
Where would that money come from?
It's unclear.
"I think there is a significant amount of money and we consider this a priority," sais Silver. Then, he went into an explanation about how funding priorities, like NYCHA, are like food shopping on a budget.
After selecting what you want, "then you come to the check-out counter, and you make a determination about how much money you have in your pocket or how much you have on your credit card. Then you make 'well, do I really need this? Do I really need this?' I would suggest to you this is something we really need. So, plain and simple–it's a requirement."