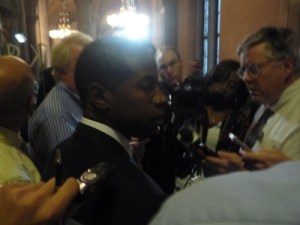 ALBANY—State Senator Malcolm Smith said his colleagues in that chamber will not return to session until a deal is reached on a deficit reduction package, and said that the overall package could be less than the $3.2 billion figure at which David Paterson has pegged the deficit.
"We want to make sure that we do not waste any time, and we want to make sure that we put together an agenda that is acceptable to everyone," Smith told reporters after announcing an agreement for a tougher law on people who drive drunk with people in their car. "We are close."
Smith said that "we're going to be here long enough to get the job done," said that there was a possibility he would be going home tonight. His statement comes a night after Republicans and Senator Ruben Diaz Sr. raised a ruckus on the chamber floor before the body conducted other business before an agreement was reached.
Smith said the sticking points continue to be Paterson's proposed cuts to education and health care. When asked if Democrats in the Senate could accept school cuts, Smith replied that "we're opposed to mid-year school aid cuts." Asked if he could walk away with a deal for less than $3.2 billion, Smith said "Yes, I think we could."