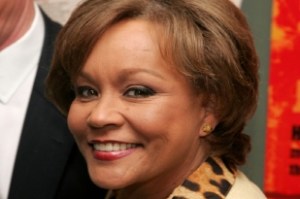 On Thursday evening, on live TV, longtime WNBC-4 news anchor Sue Simmons made a somewhat surprising confession. Back in the '80s, she said, she would on occasion drink cocktails before anchoring the news. Eventually she stopped, she continued to explain, because she noticed the alcohol was making her eyes red.
The admission came during an interview on WNBC-4's new 5 p.m. show LX New York, on which Ms. Simmons was making a guest appearance alongside Bravo executive-turned-night-show host Andy Cohen.
Not long ago, in the spring of 2008, Ms. Simmons drew national attention when she was caught cursing out her colleague Chuck Scarborough during a live promotion. Afterwards, The New York Post published a story under the headline "Silly Sue Simmons A Salty Swiller," in which anonymous sources alleged that Ms. Simmons regularly threw back cocktails before appearing on the air. At the time, Ms. Simmons did not respond to the Post. And eventually the maelstrom passed.
On Thursday afternoon, it was the mischievous Mr. Cohen who repeatedly raised the issue of drinking-and-anchoring. At first, Ms. Simmons seemed to skirt around the question successfully, but Mr. Cohen's persistence paid off.
"It used to be acceptable that you could go out to dinner and have a martini," said Mr. Cohen at one point (around the 3:00 minute mark). "Did that ever happen?"
"Yes," replied Ms. Simmons, who started anchoring on WNBC-4 in 1980. "But that stopped in the mid '80s, late '80s, because I looked in the mirror before–when I was about ready to go on the air–and my eyes were red."
"Really?" said Mr. Cohen.
"I didn't feel loaded or anything," said Ms. Simmons. "But my eyes were red and that was enough for me to say…that's it."
"Oh my god," said Mr. Cohen, grinning.
At that point, host Megan Meany had seen enough. "I hate to cut off this reunion…." said Ms. Meany.
Ironically, it was Ms. Simmons' first appearance on NBC's 5 p.m. hour since September, when the network replaced the sobering hard-news hour which Ms. Simmons co-anchored with the fizzier, effervescent lifestyle show called LX New York. To date, the show has struggled badly in the ratings–which might explain why it took a couple of days for this clip to come to The Observer's attention.