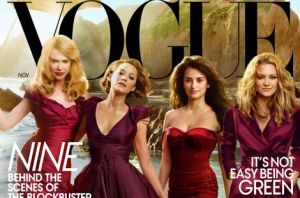 Condé Nast announced today that it has poached Susan Plagemann from Hearst and has made her the new publisher of Vogue.
Ms. Plagemann has spent the better part of her career at Hearst. She's been the publisher of Marie Clare since 2004, she was the publisher of Cosmopolitan before that and worked as an advertising manager at Esquire even before that. She began her career at Condé Nast in advertising at Mademoiselle in the early '90s.
Tom Florio will retain the title of publishing director, and now will be given additional responsibility: In addition to overseeing Ms. Plagemann at Vogue, he will oversee Bon Appetit and Condé Nast Traveler. He will continue to supervise Teen Vogue as well.
This is the final piece of the puzzle that was laid out by McKinsey, sources told us. McKinsey made recommendations to Si Newhouse and CEO Chuck Townsend that Condé Nast needed a more clearly defined reporting structure. In the past, each publisher has reported directly to Mr. Townsend or Mr. Newhouse.
So here's what we've seen quietly roll out over the last few weeks: Bill Wackermann, in addition to overseeing Glamour and Brides, was given the additional responsibility of overseeing Details; Richard Beckman, in addition to overseeing the Fairchild Group, now has been given direct responsibility of overseeing W. David Carey, a group president at the company, oversees The New Yorker, Wired and the golf magazines. Mr. Carey was overseeing Traveler as well, but that's now being handed off to Mr. Florio, who was once the publisher of Traveler.
In essence, a super-publisher structure has been created at Condé Nast, with Mssrs. Carey, Wackermann, Beckman and now Florio serving as the four leading publishers in the entire company. Mr. Townsend has said that he wants the idiosyncratic company to operate more like a traditional publishing house, or any traditional company. It's what McKinsey recommended, and a clearer bureaucratic structure is now in place.
More on Condé Nast from John Koblin:
Conde Mags Won't Cut Frequency
There's More to Come at Conde Nast, but How Much?