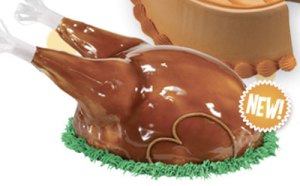 ALBANY—Sheldon Silver's Turkey is sweet and unroasted.
"I enjoy Thanksgiving by getting a Baskin-Robbins turkey-shaped ice cream cake," the Assembly speaker said yesterday. "My children don't like turkey."
State Senator John Sampson, the leader of that chamber's Democratic conference, told reporters yesterday on the floor that "I don't eat Turkey," and said he was a vegetarian, when asked.
David Paterson, according to an aide, is expected to spend Thanksgiving in Albany at the Governor's mansion as he did last year.
I know what you're asking: what will Pedro Espada, the Senate's nominal majority leader, be doing this holiday? He's going to "don an apron, carve the turkeys and serve a traditional Thanksgiving feast to these tenants who have been through some very difficult times" for the tenants of a building that has been without gas. Espada will do so at the Monte Carlo Room on Jerome Avenue.
"I was extremely grateful when Senator Espada promised to make Thanksgiving dinner for us if we were still without gas," said Socorro Ramos, a tenant at 2285 Sedgwick Avenue, in a press release from Espada's office. "He made us a promise and kept it."