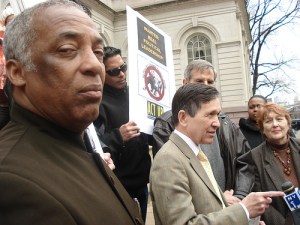 Here's a pair that's been long in the making:
Tony Avella and Charles Barron, two of the City Council's most discontented members, are proposing a "Democratic Reform Movement." Basically, the goal is to shift power away from the speaker's office to rank-and-file members. They make the case for, among other things, electing a black or Latino member as Speaker. Barron has announced his candidacy for the speaker position. Avella ran unsuccessfully for mayor and leaving the Council at the end of this year.
"Historically and presently, the New York City Council has been ruled and controlled by the dictatorship of the Speaker's office," they write.
To change that, the pair want the following changes made:
-equal distribution of capital and expense funds
-give more control to rank and file members over the legislative process
-let members, not the speaker, decide committee assignments and chairmanships
On the third page, Barron and Avella argue that the membership has grown in the Black, Latino and Asian Caucus, yet, citywide, they are not represented.
"People of color are the new majority in the City Council and in New York City as a whole. They make up 27 of 51 seats in the City Council. There are 14 Blacks, 11 Latinos, and 2 Asians. In a city where people of color make up 62 % of the population, Blacks and Latinos make up roughly 55% of the population, and the other 7 % are Asian. For there to be no Black or Latino holding a city-wide office is unacceptable. The Mayor's White, the Speaker's White, the Public Advocate is white and the Comptroller's Asian. No Blacks or Latinos. We can change that by electing a Black or Latino Council Speaker. Historically, there has never been a Speaker of color, or a person of color selected to Chair one or both of the two most powerful committees in the New York City Council, the Finance Committee and the Land Use Committee."