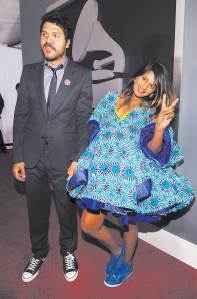 On a cold, miserable afternoon in mid-November, Ben Bronfman stepped out of a cab in front of the United Nations and walked through the security checkpoint, past the clusters of tourists in the lobby, and up to the Delegates Dining Room on the third floor, where there was a fancy luncheon to ramp things up for the big U.N. climate showdown that's taking place in Copenhagen Dec. 7 through Dec. 18.
A few minutes later, Mr. Bronfman, 27—son of the billionaire Warner Music CEO and Seagram liquor fortune heir Edgar Bronfman Jr., and fiancé of the Grammy-nominated electro–hip-hop auteur M.I.A.—was mingling with power players of the environmental movement.
There was Kevin Conrad, best known as the guy who famously told the United States, "If you're not willing to lead … please get out of the way," at the U.N.'s 2007 Climate Change Conference in Bali; Graciela Chichilnisky, the feisty Columbia University economist who helped get the Kyoto Protocol adopted in 1997 by introducing a marketplace for nations to trade carbon emission rights; and fellow Columbia professor Peter Eisenberger, a physicist who's working with Ms. Chichilnisky to develop a technology that can suck noxious emissions right out of the air.
"It's really amazing stuff," said Mr. Bronfman, who learned about their efforts two years ago through Ms. Chichilnisky, his childhood neighbor. He convinced his father to invest in the duo's technology firm, Global Thermostat, where he has been named associate managing director (Edgar Bronfman Jr. is the chair), and is headed to Copenhagen with them in a few weeks.
During the event, Mr. Bronfman, tall and scruffy-faced in a slim black suit, dark maroon button-down (no tie) and black canvas sneakers, sat near his mother, Sherry Brewer Bronfman, and his sister, Vanessa Bronfman, both bubbly as they munched on their respective salmon and chicken entrees. He speaks softly and has sleepy eyes and a laid-back demeanor, even though he always seems to be rushing around. After lunch, he declined a cocktail.
"I have to go meet my pops," he said.
DESPITE COMING FROM one of the wealthiest families in New York, if not the U.S. (Forbes recently ranked his grandfather, Edgar M. Bronfman, No. 123 on its 2009 list of the 400 richest Americans), Ben Bronfman has managed to remain relatively obscure throughout most of his adult life. He was raised on the Upper West Side and attended the Collegiate School. He discovered punk rock in the mid-1990s and frequented all the grimy downtown spots of the day—Coney Island High; ABC No Rio; the cube at Astor Place. After a year at Emerson College studying politics and law, he spent the first half of his 20s touring basements, bars and V.F.W. halls with a band called the Exit, in which he played guitar and sang. (His new band is called Bermuda). He went by his mother's maiden name at the time. "It wasn't the Strokes. It wasn't a bunch of posh kids. It wasn't New York City private school. That's not who we were," he told The Observer recently. "And I didn't want every article on us to be about," he paused, "my father." Mr. Bronfman is a curious kind of scion: not dutiful, not a rebel, but something in between.
In May of 2008, news broke that M.I.A.—real name: Maya Arulpragasam—a Bed Stuy–dwelling, Sri Lankan (by way of Britain) singer and visual artist famous for her genre-bending music, anti-establishment politics and eccentric style, was recently engaged to "Benjamin Brewer," a young member of the Bronfman clan. (It's an unlikely union, to be sure; he the son of Manhattan society, she the daughter of Sri Lanka's oppressed Tamil minority.) Headlines followed in October that the couple was expecting a child. He was born on Feb. 11, three days after they walked the red carpet at the 51st Grammy Awards, where a full-bellied Ms. Arulpragasam performed with Kanye West and Jay-Z.
'I try not to let any of that stuff penetrate my sphere of consciousness.' —Mr. Bronfman on Internet gossip
In March, the tabloids gawked over the newborn's purported name, prompting Ms. Arulpragasam to declare on her MySpace page:
MY BABY IS NOT CALLED ICKITT, PICKIT OR LICKIT THANK YOU VERY MUCH TO ALL THE HOLLYWOOD PRESS. HES A BABY , HE DONT NEED PRESS!
(Shortly thereafter, TMZ got a hold of the birth certificate, revealing the child's real name, pronounced "I-Kid," as in, Ikhyd Edgar Arular Bronfman.)