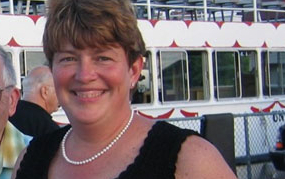 ALBANY—"I liken it to Nancy Pelosi," Assemblyman Jim Tedisco, the last Republican to lose a Congressional election in New York, told me Oct. 22 when I asked if there was any chance his party would abandon his colleague Dede Scozzafava's sputtering–and now defunct–Congressional bid. "She's got 25 blue dog, conservative Democrats. She doesn't say, 'Well, they're not my affiliation. They don't like abortion. They don't like same-sex marriage.' She embraces them, as part of the group. And I think throwing one liberal Republican out doesn't show that we're the open tent."
Over the week, Republicans closed the tent. The establishment is now backing Doug Hoffman, an accountant who was nominated by the Conservative Party after Republicans picked Scozzafava. He has won the primary that never happened.
It's brewed for weeks: presumptive presidential candidates Sarah Palin and Tim Pawlenty declared their support for Hoffman. National PACs upset with Scozzafava's support of the federal stimulus, EFCA, same-sex marriage and abortion rights poured on money and attacks. Fred Thompson cut an ad for Hoffman.
At some point, Hoffman had gone from odd-ball spoiler to the best chance the Republicans have of keeping the seat out of Democratic hands. The National Republican Congressional Committee stopped attacking him and the Democrats, whose candidate Bill Owens was slowly and quietly building support, started.
The fatal blows to Scozzafava came Thursday. Representative Pete Sessions, chairman of the NRCC told Politico that if he won, Hoffman would be welcomed "with open arms." That night, George Pataki, the moderate former New York governor told a reception of Conservative Party members that he was backing Hoffman. It was a harbinger that the state Republican establishment–Chairman Ed Cox has skipped many opportunities to fight for Scozzafava–was gone along with the national guys. Then word of a new poll got around: Hoffman and Owens were in a dead heat, and Scozzafava was fatally lagging. She issued a statement Saturday morning, and "released" her supporters to do as they pleased. Dede Scozzafava never backed away from her moderate positions, and they killed her.
"You could smell it coming a mile away," said Jim Ellis, the Franklin County Republican chairman whose own views are more conservative than Scozzafava's. "I think Dede had the misfortune of running at a time when that particular message that she was putting out there had no relevance, and the NRCC basically wouldn't let her do what she normally would have done."
It was the local party officials–guided by Ellis–who settled on Scozafava; not the national partisans. Some chairs had reservations, but Scozzafava built a coalition of moderates to get the nomination, leaving bad feelings in the minds of some of the more conservative chairs.
It didn't matter at first. Scozzafava was the first declared candidate, and built an operation consisting of the consulting firm Capitol Public Strategies–a haven for old Pataki hands like Dave Catalfamo and Bill McGahay–and two staff operatives: Matt Burns and Michael Backus, John McHugh's former chief-of-staff. The NRCC sent two staffers and set about doing what the NRCC does: attack the opponents.
Predictably, the factions clashed. The internal staffers plotted a strategy based on Scozzafava's record in the Assembly, producing ads like this one and advising Scozzafava to not sign a national Taxpayer Protection Pledge that Hoffman was touting.
But no money was coming in. Scozzafava had in the past run with the support of labor unions and small-time donors that knew her over her political career. On a national scene, this completely blunted her in Republican fund-raising circles, especially with Hoffman as an alternative.
"Social stands might make people unsettled, but it's the economic issues that are really driving people and donations away. She's alienated the conservative, free enterprise wing of the party," said one prominent New York Republican. "Card check? The stimulus? I can't make a call to anyone on her behalf because of those things."
The money to pay Capitol Public Strategies ran out. The internal staff was overwhelmed.
The NRCC was left holding the bag, and as Ellis said, was unwilling to build on the support Scozzafava had, lest it alienate its own national donor base.
"Where were the pro-choice women's groups? Where were the marriage equality folks? How come no one went up to Doug Hoffman's accounting firm with signs attacking him for hating their gay daughter?" said one Republican operative familiar with the campaign.
"The argument was that she didn't have a clear path to victory," said a different operative familiar with the campaign.
Finally, the NRCC bailed and Scozzafava walked away. Loads of Republicans uncourageously jumped off the fence.
"By suspending her campaign it makes it possible for the Republican Party and the Conservative Party to unite and support the basic core values of the Republican Party on Tuesday," said Rick Lazio, who seeks both parties' blessing in a run for governor. "I congratulate her for her selflessness and join her and other Republicans in supporting Doug Hoffman for United States Congress."
"Dede Scozzafava has placed her Party and her principles over politics and position for years," said Cox, whose spokesman on Thursday insisted he was working hard to support her. "For those who know her, her actions today come as no surprise because they show real leadership. It is testament to her character and strength under difficult circumstances. Throughout her career, she has built a record of standing up for the people of the North County. This move demonstrates her commitment to ensuring that those people have a Republican, fiscally conservative voice in Congress."
"With Assemblywoman Scozzafava suspending her campaign, we urge voters to support Doug Hoffman's candidacy in New York's 23rd Congressional District," said Sessions, along with Republican Leader John Boehner and Whip Eric Cantor. "He is the only active candidate in the race who supports lower taxes, fiscal responsibility and opposes Nancy Pelosi's agenda of government-run healthcare, more government and less jobs. We look forward to welcoming Doug Hoffman into the House Republican Conference as we work together for the good of our nation."
Ellis told me he's "weighing" supporting Hoffman. Scozzafava is conspicuously not: given the mud he's slung at her, that probably breaks more favorably for him than would any endorsement.
"I could talk a lot about things that went right, and things that went wrong, but there's no point," Scozzafava said in an interview this morning. "Things happen for a reason, and I believe there's better things to come."
Bill Nojay, a conservative Republican talk show host in Central New York said that one of two questions at stake is now settled.
"She was out of sync with a new evolving direction for the Republican Party both nationally and in New York State. When you have George Pataki endorsing the Conservative, that tells you that the most experienced Republicans recognize that there's been a sea change in Republican politics," he told me. "And now that Dede's out of the way, it's now a take off the gloves yea or nay on the Obama administration."