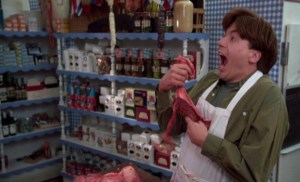 Tired of clicking around YouTube and iTunes for online videos of substance? Search no more! The Observer has your weekly handy guide to what's worth watching on the Web.
A Thanksgiving survival guide on Hulu – Admit it: You'll probably be spending at least some of your Thanksgiving vacation hiding away from family members in your bedroom or at least firing up the laptop to watch some movies on the plane. Let Hulu be your window for escape. Here's a few suggestions from their "recently added" section:
So I Married an Axe Murderer – Woman. Woe-man. Whooooooooa-man. Here's a Mike Myers, post-Wayne's World classic where he plays a beat poet who falls in love with a mysterious butcher.

Pieces of April – Katie Holmes, somewhere between Dawson and Mrs. Cruise, played April Burns, a girl living in the Lower East Side trying to make her first Thanksgiving dinner for her dysfunctional family–with a broken stove.

Addams Family Values – Kind of the perfect movie for any holiday because the Addams are probably way more messed up than your family.
A cooking survival guide (for the kitchen) on the Food Network – Here's a bunch of videos in case you're looking for last minute recipes or need to figure out how to tell if a turkey is done or would like visuals on how to carve that bird.
Picking up where The L Word left off: Anyone But Me – From the executive producer team of award-winning playwright Susan Miller (The L Word and Thirtysomething) and Tina Cesa Ward (In Their Absence) comes this lovely Web show called Anyone But Me. The series follows New York City teenagers grappling with awakening sexuality and all kinds of identity crises. The show was created for StrikeTV.com, a site that launched during the writer's strike to draw attention to original programming on the Web–and it actually succeeds in showing us the potential of the medium. Catch up on the first season before the new episodes debut in December.
Biking Rules PSA winners – Transportation Alternatives recently hosted a PSA competition, asking the city's filmmakers to make Web-friendly clips that explain biking rules. The results were true, creative works of art. Check out this top prize winner, which displayed beautiful animation to show how wearing bike lights are not only safe but eye-catching. Or how it's important to make eye contact with drivers. We also like this old-school style Gear Up: Safety 'N' You video. Wear a helmet, people!
Beatles 3000: The mockumentary of the future – What if PBS did a documentary on The Beatles 1,000 years after John, Paul, Greg, and Scottie (yeah, you read that right–the lineup has changed!) died? Here's what it might look like (hilarity within).