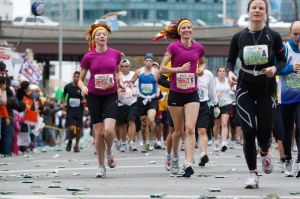 Tired of clicking around YouTube and iTunes for online videos of substance? Search no more! The Observer has your weekly handy guide to what's worth watching on the Web.
The New York City Marathon in video form – Brooklyn photographer Mehmet Dokumcu created this beautiful time lapse video, capturing all those crazy marathoners who pounded the pavement last Sunday. He set up his camera on 4th Avenue between miles 6 and 7, and programmed it to take a picture every five seconds, then meshed all the photos together into one shot. There's also a video on the New York Times site from reporter Andy Newman, who decided to walk a marathon–around his block. He circled his Park Slope block with his dog, Barnaby the Basset, 75.4 times.
Bon Jovi on MTVMusic.com – Jon Bon Jovi may be an NBC man now, but remember those Slippery When Wet days, when he had 80's hair and could only be seen on MTV? Well, the "music channel" has a pretty comprehensive collection of his music videos on their site. Slap on a bandanna and call it a night. Livin' on a prayer, baby.
Newsy's News With More Views videos – Newsy is a new site that makes videos analyzing how TV stations, new sites, magazines, blogs are covering the top stories of the day. These watchable little clips can help users understand complicated news subjects by bringing together a broad range of subjects. Take, for example, this video on The Future of Healthcare Reform: What Happens Next? There's clips from FOX News, the Chicago Tribune, The Washington Post and MSNBC so viewers get a few different sides to the story. Subjects range from the very serious, like how Afghan president Hamid Karzai's election prompts a new sets of questions on the U.S. policy toward Afghanistan and how a sexy calendar of moms making muffins got a Mormon group in trouble.
Working Class Foodies on HungryNation.tv – Max and Rebecca Lando are a brother and sister cooking team who make tasty meals in their modest New York kitchen with local, seasonal ingredients. They've made David Chang's Momofuku Bo Ssam, priced at $200, for $2 per person and learned how to make bratwurst from Theo Peck (formerly of Blue Hill). With a lovely, muted camera style and a little humor (thanks in no small part to their hound dog, Humphrey), Working Class Foodies make a great little Web show that will make you drool.