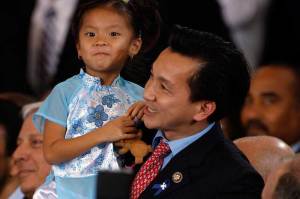 Pushing a health care reform bill through the House on Saturday night was a trickier task than Democrats anticipated.
But it still wasn't that suspenseful: Somehow you knew that party leaders – and the White House – would manage to squeeze out the necessary 218 votes, something they ended up accomplishing by killing a plan to peg reimbursement rates for a government-run insurance program to Medicare and by granting a big concession to abortion opponents.
The real drama was over which particular House members would end up bucking their party leadership – and why.
On this front, the biggest surprise was the decision of Joe Cao, a freshman Republican from Louisiana, to join the 219 Democrats who voted for the bill. Cao issued a detailed, policy-oriented explanation for his vote, but his political calculation actually isn't hard to understand: Unlike his fellow Republicans, he has more to gain by cooperating with the White House than by standing with the G.O.P.
This is because Cao owes his election last December to a fluke: He happened to be on the ballot against Democratic Representative William Jefferson, who was then facing a 16-count corruption indictment (and who was later convicted of 11 charges). Even against that backdrop, Cao won by fewer than 2,000 votes, a testament to the overwhelmingly Democratic nature of the New Orleans-based 2nd District, which gave Barack Obama 75 percent of its vote last year.
Cao, for obvious reasons, has been marked as an automatic one-termer since arriving in Washington. Here, a parallel can be drawn to Michael Flanagan, the no-name Republican who eked out a fluke win over the indicted Dan Rostenkowski in an equally Democratic Chicago-based district in 1994. With Rosty off the scene, the district reverted to form two years later and Flanagan was swamped by the (then) scandal-free Rod Blagojevich, 64 to 36 percent. He then returned to anonymity.
Flanagan was probably doomed no matter what in '96, but he made the Democrats' task easy by siding with Newt Gingrich and the House G.O.P. in their 1995 quest to cut the growth of Medicare – a push that prompted Bill Clinton to shut the government down rather than sign off on the cuts. Had Flanagan bucked his party on that vote, it might have been tougher for Blagojevich to tie him to Gingrich and the national G.O.P. in '96.
Perhaps Cao has studied up on the Flanagan example. Siding with the White House – and against the G.O.P. – on its signature legislative effort will make for a helpful talking point for the congressman in 2010, just as it will deny Democrats an easy line of attack.
And if his re-election campaign doesn't work out (and it probably won't), Cao now has a chit with the White House, which might earn him an appointed position after his House term. This is no small consideration for a man who – like Flanagan before him – was a gadfly before hitting the political lottery last year and who won't have many options for seeking other elected offices back in Louisiana.
On the Democratic side, there were 39 defections on Saturday. Most of them were predictable – blue dog or blue dog-like Democrats from Republican-friendly districts for whom bucking the national Democratic Party line is a badge of honor back home.
Several Democrats from the New York area fell into this category. Eric Massa, for instance, defeated Republican Randy Kuhl by 4,000 votes in the upstate 29th District last year. Not too surprisingly, he played it safe on the health care vote, echoing Republican complaints about cost, the absence of tort reform, and the constitutionality of the individual mandate, and voted no. Massa's district is currently rated "Leans Democratic" by the Cook Political Report.
(Interestingly, the districts of three other New York Democrats – Tim Bishop, John Hall, and Mike Arcuri – share this Cook rating, but all of them voted for the bill. And Bill Owens, elected to represent the G.O.P.-friendly 23rd District last Tuesday, voted yes as well.)
Scott Murphy, elected this spring to replace Kirsten Gillibrand, also voted no, as did Staten Island's Michael McMahon. Again, their political calculations are obvious: McMahon's district was, until his 2008 election, the only New York City-based district to be represented by a Republican and Murphy's rural 20th District was a G.O.P. bastion for decades prior to his victory. Cook rates their districts as "Likely Democratic," meaning that they seem safe – for now.
No members of Connecticut's all-Democratic House delegation broke rank, but one New Jersey Democrat did: freshman South Jersey Representative John Adler, whose 3rd District hadn't elected a Democrat since 1884 before his narrow win last fall. As a state senator for 17 years before his election to Congress, Adler represented a safely Democratic district and racked up a solidly liberal voting record. Clearly, he sees the health care vote as a chance to convince his new constituency that he's no liberal.
Nationally, there were few surprise no votes from Democrats.
The most liberal Democrat to vote no was Ohio's Dennis Kucinich, who fancies himself some kind of lonely, principled warrior – even if he's really just an unaccomplished, publicity-seeking irritant with an outsize sense of what it means to chair a Government Reform subcommittee.
Another (mildly) surprising no came from Alabama's Artur Davis, who represents a safely Democratic district – but who is trying to move hard to the right in advance of his campaign for governor next year. Charlie Melancon, who is running for David Vitter's Louisiana Senate seat next year, also voted no – although Melancon represents a red district and has routinely voted against Democratic bills for years.
Here, the examples of Tennessee's Jim Cooper and Oklahoma's Dave McCurdy come to mind. As House members in 1994, they worked against Bill Clinton's health care reform plan, thinking it would boost them as they ran for the Senate that year in red states. It didn't. They both lost in routs.