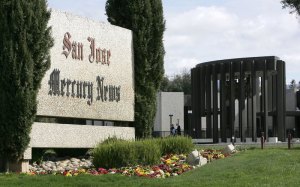 If anything good is going to come out of the decimated print-media world, it will be elegiac newsroom photos from soon-to-be-former employees.
Last year, Martin Gee posted the "Reduction in Force" series—a Flickr archive of of the San Jose Mercury News office as a shadow of its former self. Now, Kevin DeMaria has created a site memorializing "The Last Days of Gourmet."
As far as aesthetics, Gee and DeMaria share a visual vocabulary: cubicles in disarray, abandoned phones, blank walls with surplus thumbtacks. But they survey the scene from very different vantage points. The Mercury, after all, is still limping along—and when they fired Gee a few months after his photos made the blog rounds, he responded with a picture of his extended middle finger and a post reading, "Fuck the merc. I know it was a retaliation layoff."
"Last Days," of course, documents the total demise of Gourmet, and how hard it hit the unsuspecting staff. DeMaria writes:
Although at times it was hard for me to shoot the common places in the offices at Gourmet, I knew I needed to document where I loved working for the last 8 years. . . . Gourmet became my family and I will always look back proud to have been part of such an amazing magazine.