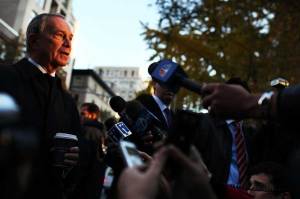 Michael Bloomberg is on pace to spend more than $100 million on his reelection campaign—more than anyone has ever spent to become mayor of anything, and many, many times more than his effectively resourceless Democratic challenger, City Comptroller Bill Thompson.
But even as his campaign blanketed the airwaves with ads and clogged mailboxes with glossy literature in the run-up to Election Day, the mayor's handling kept him on a full schedule of plain old retail campaigning, asking ordinary, non-billionaire people, in ordinary settings, for their support.
On Oct. 31, in the Throgs Neck section of the Bronx, Mr. Bloomberg waded into a crowd of parents and small children on line to start the local Halloween parade. Six campaign volunteers with blue campaign canvas bags full of stickers and Hershey's candies orbited the mayor as he posed for an endless stream of photographs.
Mr. Bloomberg's girlfriend, Diana Taylor, watched the couple's Labradors, and showed The Observer her campaign earrings, which bore Mr. Bloomberg's face. "I had them left over from the last campaign," she said.
Then it was off to Flushing, where a truck carrying a giant poster of Mr. Bloomberg greeted supporters inside the parking lot of the Flushing Mall. More than 200 supporters waved signs and cheered as Mr. Bloomberg arrived, spoke and departed.
At Mr. Bloomberg's last campaign event on Halloween, he didn't even mention the election. He was onstage at a church in a Glendale neighborhood telling a rambunctious audience of kids and their parents that he had decided to dress up as Matt Damon.
Outside, former councilman Tom Ognibene, a Republican who once opposed Mr. Bloomberg but now supports him, explained the mayor's strategy.
"You know, my wife used to say people need to see you watching a Ranger game with the popcorn all over you, that kind of thing, so, you got to humanize yourself to the public," he said. "And that's what the mayor's doing, and that's why he's here."
On Sunday, Nov. 1, Mr. Bloomberg held a rally for supporters in Brighton Beach, complete with the usual trappings of the campaign. There was a giant truck with Mr. Bloomberg's smiling face, one campaign videographer, one campaign photographer, four Eon speakers on tripods and two professional floodlights (with plastic gels to soften the tone) pointed at the stage. The wires for the sound system ran to a sound board set up inside the lobby of the theater. Mr. Bloomberg's soap box was ready.
"It's up to you to decide whether we keep making progress, or go to politics as usual," Mr. Bloomberg told the crowd. They cheered.
Afterward, dozens of them walked halfway down the block, where a charter bus was waiting to take them back to various parts of Brooklyn. The campaign's deputy director for Russian outreach stood by and assisted people on board. Some carried not just campaign stickers and buttons but blue plastic cups with the "Mike Bloomberg NYC" logo.
Mr. Bloomberg ended his campaign festivities with a rally in the Grand Hyatt with members of the Independence Party. Three giant placards featuring Mr. Bloomberg's images greeted guests. More than 500 chairs were laid out for the event.
"I can't do it without you," Mr. Bloomberg told them.
He said, "We have something like 52 hours left to go. Now, I know everybody's busy, there's lots of things to do. I'm going to watch the Yankee game tonight. I'm going to watch a Yankee game tomorrow night. It will be nice if I didn't get to watch a Yankee game on Wednesday night," he said, referring optimistically to an early victory in the seven-game series.
On Nov. 2, the day before the election, Mr. Bloomberg took the 7:10 a.m. ferry to Staten Island to shake hands with voters. One woman there approached him and said, "You're a disgrace." Mr. Bloomberg smiled, uttered a curt thank-you and continued greeting commuters.
While in the ferry terminal, a Quinnipiac poll was released showing Mr. Bloomberg leading Mr. Thompson by 12 points, but with the mayor's support hovering stubbornly at the 50 percent mark—down 3 points from a Quinnipiac poll a week earlier.
Standing nearby, Bloomberg campaign spokesman Howard Wolfson said, "Would you rather be up 12 or down 12?"
He added, "Look, it's an election. Somebody's got to win, somebody's got to lose."
LATER, AT THE Staten Island institution of Holtermann's Bakery, Mr. Bloomberg's host that morning, Borough President James Molinaro, pulled out a few bills and said he'd pay for their order of coffee and corn muffins.
Mr. Bloomberg, wanting to be gracious but responsible, agreed to pay part of the bill. "I've got the 15 cents," said the mayor.
Outside, Mr. Bloomberg downplayed the notion that since he spent big, he has to win big.
"Maybe a win's a win, but you'd always like to have more. But nobody is going to remember two days later how much you won by. You're only going to remember who the mayor is going to be for the next four years," he said.
Later, when presented with a red chef coat and white chef hat by an appreciative baker in Fort Greene, Mr. Bloomberg posed for the cameras but declined to put on the entire outfit.
"After Michael Dukakais, no. We have to learn," he said.
Turning to the baker, Mr. Bloomberg said, "Thank you. But I will take it home."
Moments later, in a sporting gesture, Mr. Bloomberg put on the red coat, and Mr. Wolfson donned the hat.
That night, Mr. Bloomberg and company watched the fifth game of the World Series in a bar in Bay Ridge.
At one point, Mr. Bloomberg sat at the end of a long wooden table watching the television screen. There were two outs and two strikes against the Yankees in the sixth inning. They were trailing by four runs .Mr. Bloomberg had his hands folded in front of him and was chewing on his thumb. Deputy Mayor Patti Harris spoke in his ear. He did not look.
When a Bloomberg campaign commercial appeared, the mayor smiled and tapped the table in approval. He stayed for one more inning.
ON ELECTION DAY, Mr. Bloomberg led a throng of reporters into P.S. 6 on East 81st Street and voted for himself. On his way out, he purchased a cup of coffee ("regular coffee, half cup, a lot of milk") from a woman in the lobby.
"One dollar. It's the least expensive coffee in town," she said.
Bloomberg replied, "Sounds like a very good deal. And it's very good."
He expressed optimism to reporters, then headed off to greet voters at 72nd Street and Broadway.
Aaron Harnick, 41, who works for a movie production company, said he had just voted for Mr. Bloomberg.
He stood several feet away from a gaggle of the mayor's aides and volunteers, watching them thrust literature into the hands of commuters.
Mr. Harnick said he thought Mr. Bloomberg's campaign commercials were well made but a little dull. He had seen a lot of them.
"I was in the gym last week, flipping the channels. He was on all of them," Mr. Harnick said, amused. "It was a blanket ad."