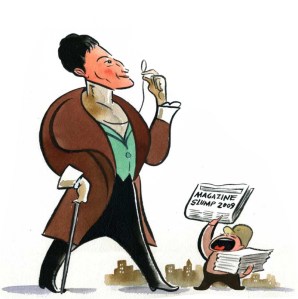 Magazines are shrinking—smaller staffs, fewer writers, fewer stories written per writer, fewer words for each story—but The New Yorker continues to look, remarkably, about the same as it did five years ago, even as its parent company has cut hundreds of jobs and folded a handful of titles in the past few weeks.

The New Yorker has never published a masthead. But four and a half years ago, this newspaper assembled the magazine's staff list and published it to look like one. Since then, some editors, researchers and writers have left, and been replaced by new talent. The magazine has gotten a little younger too (witness the hiring of Ryan Lizza, Nick Trautwein, Ariel Levy, and 26-year-old managing editor Amelia Lester). But one thing has stayed the same: the sheer size of the magazine's editorial staff.
>>READ JOHN KOBLIN'S STORY ON AMELIA LESTER'S HIRING
>>READ JOHN KOBLIN'S STORY ON NICK TRAUTWEIN'S HIRING

"In order to do what we do, we need a sizable staff," said editor in chief David Remnick in an interview. "We don't publish 10 issues a year, or 12 issues a year. We publish 46."

"If The New Yorker is going to be worthy of the name," he continued, "and achieve a level of prose or accuracy or depth, or if it's going to give the reporters or writers the time they need to achieve what I hope we can achieve, we can't do it with a minuscule staff."

We assembled the list through interviews with staffers and contributors notes in back copies and online. Keep in mind that because of the unique, internal logic of the magazine, job titles are a strange thing—someone who may be a staff writer may have only contributed a single piece in the last few years. Here's what we pulled together.
Editor: David Remnick
Deputy Editor: Pamela McCarthy. Executive Editor: Dorothy Wickenden. Editorial Director: Henry Finder
Articles Editor: Susan Morrison. Features Editor: Daniel Zalewski. Fiction Editor: Deborah Treisman
Senior Editors: John Bennett, Virginia Cannon, Leo Carey, Amy Davidson, Nick Trautwein
Managing Editor: Amelia Lester
A-Issue editor: Silvia Killingsworth
Assistant Editors: Andrea Thompson, Lizzie Widdicombe
Deputy Fiction Editor: Cressida Leyshon
Senior Fiction Editor/Staff Writer: Roger Angell. Assistant Fiction Editor: Carin Besser
Fiction Staff: Brandon Jacobs-Jenkins, Stanley Ledbetter
Poetry Editor: Paul Muldoon
Poetry Associate: Jenna Krajeski
Goings on About Town Editor: Ben Greenman
Goings on About Town Staff: Richard Brody, Russell Platt, Andrea Scott, John Donohue, Shauna Lyon
Web Editor: Blake Eskin
Blogs Editor: Rollo Romig
Book Bench/Book Club Editor: Macy Halford
Web News Editor: Avi Zenilman
Web Projects: Kelly Bare
Senior Web Producer: Sally Law
Web Producers: Eric Lach, Thessaly La Force
Multimedia Producer: Mengfan Wu
Web Production: Maureen Newmeyer
Critics: Joan Acocella (Dance), Hilton Als (Theater), David Denby (Movies), Anthony Lane (Movies), Sasha Frere-Jones (Pop Music), Paul Goldberger (Architecture), John Lahr (Senior Drama Critic), Nancy Franklin (Television), Alex Ross (Music), Peter Schjeldahl (Art), James Wood (Books).
Staff Writers: Jon Lee Anderson, Ken Auletta, Burkhard Bilger, Katherine Boo, Peter J. Boyer, Connie Bruck, Bill Buford, John Cassidy, John Colapinto, Steve Coll, Lauren Collins, William Finnegan, Frances FitzGerald, Jonathan Franzen, Ian Frazier, Tad Friend, Atul Gawande, Malcolm Gladwell, Dana Goodyear, Adam Gopnik , Philip Gourevitch, David Grann, Jerome Groopman, Alma Guillermoprieto, Seymour M. Hersh, Hendrik Hertzberg, Peter Hessler, Raffi Khatchadourian, Elizabeth Kolbert, Jane Kramer, Nicholas Lemann, Jill Lepore, Ariel Levy, Ryan Lizza, Larissa MacFarquhar, Janet Malcolm, Patricia Marx, Jane Mayer, Ben McGrath, John McPhee, Rebecca Mead, Louis Menand, Susan Orlean, Evan Osnos, David Owen, George Packer, Ian Parker, Nick Paumgarten, Richard Preston, Lillian Ross, Claudia Roth Pierpont, Kelefa Sanneh, Simon Schama, John Seabrook, David Sedaris, Mark Singer, Michael Specter, James B. Stewart, James Surowiecki, Margaret Talbot, Judith Thurman, Calvin Tomkins, Jeffrey Toobin, Calvin Trillin, Alec Wilkinson, Lawrence Wright
Art Director: Caroline Mailhot
Assistant Art Director: Nick Vokey
Cover Editor: Francoise Mouly
Cartoon Editor: Bob Mankoff
Illustration Editor: Christine Curry
Illustration Associate: Max Bode
Visuals Editor: Elisabeth Biondi
Photo editors: Whitney Johnson, Honore Brown
Picture Researcher: Jessie Wender
Art Assistants: Emily Kan, Maria Lokke, Katie Long, Adam Moerder
Cartoonists and Cover Artists:
Tom Bachtell, Harry Bliss, Barry Blitt, George Booth, Roz Chast, Michael Crawford, Eric Drooker, William Hamilton, Zachary Kanin, Ana Juan, Edward Koren, Lee Lorenz, Lornezo Mattoti, Bruce McCall, Warren Miller, Frank Modell, Peter de Seve, David Sipress, Art Spiegelman, Edward Sorel, Mark Ulriksen, Chris Ware, Robert Weber, Jack Ziegler
Photographers: Sylvia Plachy, Platon, Robert Polidori, Steve Pyke, Martin Schoeller

Head of Copy: Ann Goldstein
Copy Staff: Carol Anderson, Ty Baldwin, Diane Belfrey, Andrew Boynton, Meredith Davis, Jeffrey Gustavson, Mary Hawthorne, Jennifer Koontz, Sarah Larson, Ken Marks, Mary Norris, Margaret O,Connell, Elizabeth Pearson-Griffiths, Victoria Raab
Head of Checking: Peter Canby
Deputy Checking Heads: Michael Peed, Nandi Rodrigo
Fact Checkers: Nana Asfour, Martin Baron, Katia Bachko, Lila Byock, Siobhan Devine, Tim Farrington, Sameen Gauhar, Christopher Glazek, Hannah Goldfield, Chris Jennings, Jennifer Stahl, Scott Staton, Jessica Weisberg, Reeves Wiedeman, Andy Young
Editorial Assistants: Adrienne Bernhard, Bruce Diones, Deirdre Foley-Mendelssohn, Brenda Phipps, Lauren Porcaro, Yvette Siegert, Katherine Stirling
Head of Makeup: Pat Keogh
Deputy Head of Makeup/Special Projects: Killian Schalk
Makeup Staff: Derrick Koo, Caitlin Martin, Elizabeth Minkel, Monica Racic
Head of Library: Jon Michaud
Deputy Head of Library: Erin Overbey
Editorial Business Manager: Risa Leibowitz
Assistant Editorial Business Manager: Jillian Kosminoff
Staff: Judy Callendar, Arlene Whilby
General Counsel: Lynn Oberlander
Assistant: Gina Ishibashi
Director of Editorial Events: Rhonda Sherman
Staff: Jen Berrio, Michael Schulman
Director of Public Relations: Alexa Cassanos
Public Relations Manager: Jaime Leifer
Public Relations Coordinator: Elizabeth Williamson
More from John Koblin:
Nick Trautwein Is a New Senior Editor at The New Yorker
Amelia Lester, 26 Year-Old Former Fact Checker, Is the New Managing Editor of The New Yorker