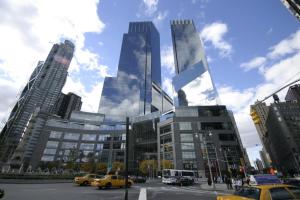 This September, after a summer of solemn hand-wringing over just how far Manhattan's luxury real estate market had fallen, the annual batch of post–Labor Day listings was supposed to be modest and humbled. It wasn't. One corrugated-cardboard magnate, for example, cut the price of his duplex to only $29.5 million, still $14 million more than he'd paid for it.
Even as the year crawls to a close, outdated swagger lives on.
Last week, an apartment at the Time Warner Center was listed for $14.9 million, even though records show that it was bought for $6 million in 2007, back when the market was at its glorious peak. According to deeds, the apartment belongs to the family of Dr. Hilel Lewis, an ophthalmologist who left the helm of Cleveland Clinic's Cole Eye Institute last year.
The condo is asking $6,430 per square foot—which would have been eye-widening even during bubbly times.
Dr. Lewis is not a stranger to the Manhattan condo market. When he sold a 7,300-square-foot duplex on 57th Street, according to a 2005 Times article, he was sued separately by his buyer and the brokerage Douglas Elliman, which said it had been cheated out of its $298,000 commission. This time around, his apartment is being handled by Corcoran.
The ophthalmologist is not the only oddly ambitious seller at the Time Warner Center. As The Observer reported online last week, the venture capitalist Doug Von Allmen listed his duplex there for $18.45 million. Mr. Von Allmen, who has been described as a victim of the lawyer Scott Rothstein's alleged Ponzi scheme, said in a recent interview: "I will still eat out at a restaurant every night; this is just something I need to get through.
He's asking $5,285 per square foot for his place. "People assume there's negotiability," the broker Raphael De Niro explained. "You want to let someone feel like they're getting a deal, so you have to build in a little bit of a cushion."
Mr. De Niro is handling the two-floor 43 Wooster Street penthouse that was listed in September 2007 for $12.5 million, which fell to $5.9 million before the duplex was taken off the market late last year. The apartment, which, according to deeds, belongs to the stockbroker Michael Benisty, just came back on the market without another price cut. "What would make sense, to put it at $5,850,000?" Mr. De Niro asked. "What difference does that make?"
mabelson@observer.com, cmalle@observer.com